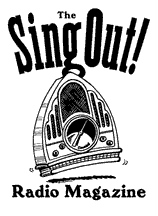 The Sing Out! Radio Magazine is a weekly, hour-long program hosted by long-time Folk DJ, banjo player, and regular Sing Out! Magazine contributor Tom Druckenmiller, featuring interviews in addition to "live" and recorded music. The program is currently being aired in more than 25 markets nationwide, as well as via podcast and on-demand stream.
E-mail us at to find out where you can hear The Sing Out! Radio Magazine in your area.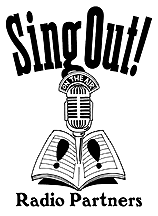 T
he
Sing Out! Radio Partners
program was established to build a relationship between regional folk music programmers and Sing Out! magazine. Each of our Radio Partners features news and music from the pages of our magazine in their programs, and makes a special effort to help promote and further our work.
E-mail us at to receive a "contact mailing list" to reach our Radio Partners. Please include your full contact info and reason for the request with the email.