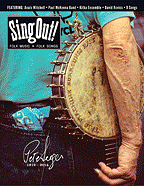 ---
---
Recent Reviews
<<< click for all reviews ... or a cover below for a specific one.
---
Video of the Week
OK. That happened. And now it's time to shake off the shock, and get about the business of organizing to stand up against the intolerance, hate, fear and ignorance that banded together to put the least prepared president in the history of the U.S. in charge of the levers of power for the coming four years. He's a con man ... but we don't have to let ourselves be conned, or to sit idly by and watch as the civil rights, ecological, economic and societal gains we made over the past eight years evaporate. Our country is depending on us. Our world is depending on us. Every living thing is depending on us.
And realizing that reminded us of the beautiful anthem singer and songwriter Rod MacDonald wrote back in the early 1980s (and we shared in the pages of Sing Out! in v.32#1). Here's a live performance of Every Living Thing" by Rod from a performance in Prague back in 1992. As Rod sings: "No matter what they say, there has to be a way ... Every living thing, is counting on us!"
---