Listen to this week's show:
Episode #18-03 | Best of 2017, pt 3 | airing the week of 01-17-18
To subscribe via iTunes, click . | To listen using Stitcher, click .
For playlists, click HERE.
ABOUT THE SHOW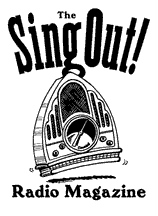 The Sing Out! Radio Magazine is a weekly, hour-long "magazine format" program, hosted by Tom Druckenmiller, featuring interviews in addition to "live" and recorded music. The program is currently being aired in over 25 markets nationwide and via podcast, available for download via iTunes (see above), and through the Stitcher App for iOS or Android.

ABOUT THE HOST
Tom Druckenmiller has a long history with Sing Out! as a writer and regular contributor (for more than a decade) and deep and rich skills as a radio host and programmer of folk and roots music! Druckenmiller has been a folk musician and teacher for over forty years. He began playing and singing Bob Dylan and Tom Paxton songs, but fell in love with old-time music and the clawhammer banjo after hearing John McCutcheon at the legendary Bethlehem folk club Godfrey Daniels. He has studied with old-time music greats Dwight Diller, Riley Baugus and Norman and Nancy Blake … and has, himself, taught at many music camps and workshops including The Augusta Heritage Workshops (in Elkins WV), the Pocono Dulcimer Fest (in Stroudsburg PA) and the Maidencreek Old-Time Music Festival (in Blandon PA). Druckemiller's continuing regular local radio gig "In The Tradition" has aired on WDIY-FM in Allentown PA for the past 16 years, and he also co-hosts the "Sunday Folk" program on the station. (ARTISTS: Click HERE for info about submitting CDs to Tom for airplay consideration.)
Thanks so much to original host Matt Watroba for his work on SORM for it's first 3 years!
For info about the hosting change, click HERE.