Description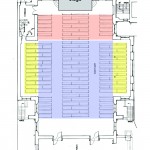 ⇐ Click for a map of the venue showing seating options.
Join us Sunday afternoon, March 1st starting at 3:00pm at the First Unitarian Church of Philadelphia (2125 Chestnut Street, Philadelphia, PA 19103) for a knock-out celebration marking the "dean of Philly folk's" 80th birthday and his retirement from radio (after more than five decades as the pied piper for generations of folkies in the area).
When:
Sunday, March 1st, 3pm
Where:
The First Unitarian Church of Philadelphia
Hosted by:
David Dye
Performers (subject to change):
Tom Paxton
Janis Ian
SONiA
Silk City
Kim & Reggie Harris
John Flynn
Julie Gold
Full Frontal Folk
plus special surprise guests!
The gala celebration (a benefit for Sing Out!) will be followed by an intimate meet and greet (including food and soft drinks) with Gene and the performers (available with "patron tickets" to the event only). Seating for the concert is general admission, on a first come basis.
You don't want to miss this once in a lifetime event!
IMPORTANT!! – Bring the email receipt for your purchase to the concert.
Tickets will be held at the door under the name and email address of the purchaser.
Worried about parking? Click HERE!!
This concert is made possible with generous support from: