Before 2017 becomes a distant image in the rear view mirror, I would like to share my ten favorite recordings from last year. Although 2018 is brand new, I am beginning to receive CDs and files — the first one arriving on January 2! I've also had the honor to preview a few upcoming releases and it appears that 2018 is going to be another fine year for folk music!
Folk music is timeless. The good songs do not have shelf lives and last for generations. I believe that the following recordings will stand the test of time and deserve to be heard by everyone. If they are not yet part of your personal library, I strongly urge you to check them out.
You will notice a "theme" of sorts that weaves through many of my choices — the spirit of community in facing adversity creating social change. Perhaps it is a reflection of the troubled times the planet faced in 2017 and how folk music has always represented the voice of the people.
I want to clarify that this is not a "best of" list in the sense that this is just my opinion, I am sure readers like yourself will have additional recordings that you love and are probably wondering why I did not include them. Let's hear from you.  At the end of this article, please post a message and tell me what recordings that you have loved in 2017 that I may have overlooked.
Here are my favorites, in alphabetical order: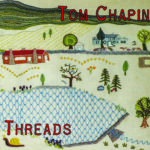 TOM CHAPIN
THREADS
Sundance Music – www.tomchapin.com
In 2017, Tom Chapin put together a collection of 13 powerful and personal songs for his 25th recording. With a career that has already spanned five decades, Tom shows that there is no end to his creativity. Threads celebrates his family history as well as showcases his strength as a songwriter with a wide range of styles in his latest recording.
The title cut is inspired by his late mother Elspeth who was a talented needlework artist and the cover of the CD features her work.  When the Family Sings describes the experience of the Chapin Family getting together to make music and it reminds each of us to the importance of singing together. Tom also shares beautiful love songs to his wife ("Build a Dream"), his daughters ("That's What Grandpa's Do" and "Talk to Your Baby") and adds some song for the latest additions to Chapin clan, his two new granddaughters ("Song for Elspeth" and"Willa Won't Ya").
Tom does go beyond the family history to share a song about Julia Ward Howe and the creation of Mother's Day, a glimpse at the pitfalls faced by contemporary songwriters with the advent of Internet music streams, a cover of his brother Harry's "Any Old Kind of Day," and the recording concludes with the inspiring and timely anthem "We Will Not Stop," written by his daughters Abigail and Lily who record and perform as the Chapin Sisters. In some hands, a CD that features so many personal songs can isolate the intended audience, but Tom has the all too rare ability to tell stories of his own personal history and make it relateable to something in each of us. Threads is a shared experience that I hope more people will join in.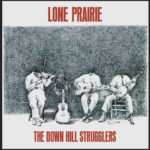 THE DOWN HILL STRUGGLERS
LONE PRAIRIE AND OTHER OLD TIME SONGS
Jalopy Records – www.jalopyrecords.com, www.downhillstrugglers.com
Jackson Lynch, Walker Shepard and Eli Smith are an old-time string band that formed at the home of mutual friend Peter Stampfel of the Holy Modal Rounders. The trio share a love for the music out of rural America's past, and together they are introducing these sounds to contemporary urban audiences. They are often joined in concert by John Cohen, a founding member of the New Lost City Ramblers.  Prior to their 2017 recording, the Down Hill Strugglers appeared on the soundtrack to the Coen Brothers film Inside Llewyn Davis.
On their latest recording, the Down Hill Strugglers capture the feeling of classic 78s recorded in the 20s and 30s. The trio takes inspiration from classic recordings of the era while creating truly original arrangements, still maintaining and respecting the original artists. The recording blends some great tunes that feature the signature fiddling of Jackson Lynch, notably a version of "Seneca Square Dance," along with takes on songs such as Charlie Poole's "Goodbye Booze."
For the cynics who think that traditional music is a dead art, look no further than the Down Hill Strugglers to find that the styles are not only being kept alive, but also thrive in the hands of these young masters. Folk music is often framed as museum pieces, but the Down Hill Strugglers show that the tunes and songs remain alive, relevant and most importantly – fun!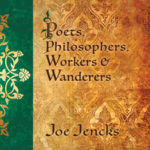 JOE JENCKS
POETS, PHILOSOPHERS, WORKERS & WANDERERS
Turtle Bear Music – www.joejencks.com
I first met Joe about 15 years ago and recall being floored by his powerful voice, well crafted songs and unflinching commitment to creating art that speaks of truth and compassion. Each of his recordings, whether solo or as a member of Brother Sun, have remained true to my first impressions of Joe, and each recording shows new facets to Joe's complex yet reachable vision.
From first cut to the last, Poets, Philosophers, Workers & Wanderers takes us on a musical journey for our times. Each of the 15 cuts share stories of conscience and inspire the listener. Shortly after Pete Seeger's passing, Joe shared a demo of "Let Me Sing You A Song," a song that Joe wrote about Pete's dealings with the HUAC hearings during the McCarthy era. The finished version that appears on this CD is a masterpiece that comes to us as a reminder during our own era's troubling times. This and other songs on the CD provide us with inspiration and provides us with hope.
As a gifted storyteller, Joe takes us back to 1940s Germany with the moving "Children of Trochenbrod," based on the massacres that took the lives of over 5000 Jews in this Polish town. Joe also shares Phil Ochs' "Hands" and he is joined by his friend Reggie Harris for "Best of Friends."
The CD is an emotional powerhouse. Joe shows us what love is really all about and his voice serves as a beacon to show us the way.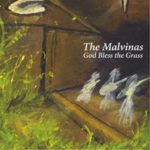 THE MALVINAS
GOD BLESS THE GRASS
Soona Songs – www.soonasongs.com , www.themalvinas.com
Lisa Markley, Gina Forsyth and Beth Cahill took the name of their trio from Malvina Reynolds and their latest CD uses Reynold's 1964 song for the title cut. The song contains the lyric "God bless the truth that fights toward the sun" and the trio live those words by melding their different backgrounds and styles into exquisite harmony channeled through a collection of passionate songs.
The CD is a mix of originals, covers and traditional songs. Of the originals, I was particularly moved by Beth Cahill's haunting Crow, Gina Forsyth's "Somewhere Off the Foot of This Mountain," and Lisa Markely's "Weak in the Knees." I was happy to see that the Malvinas' offered a version of the late Jack Hardy's "I Ought to Know," an important message that we should all be listening to.
I'm a sucker for traditional songs and harmony, so you can imagine how much I enjoyed the Malvinas' version of "How Can I Keep From Singing." The song is a reflection of the commitment and passion that the Malvinas' put into their music and performance, serving as an example of how art and social conscious should mix.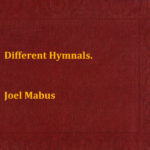 JOEL MABUS
DIFFERENT HYMNALS
Fossil Records – www.joelmabus.com
For those of you who have seen Joel Mabus in concert, you know that he gives an eclectic performance mixing in traditional folk, blues, original songs and more utilizing his virtuoso skills on guitar, fiddle, mandolin and banjo. His extensive recording career dates back to 1977 with a discography as varied as the man himself.
The title of his latest collection, Different Hymnals, might sound like an invitation to a church gathering, but this is more than a pure musical religious treatise, it is a look a variety of different traditions, beliefs and inspirations. As Joel declares in the liner notes "I didn't come to preach or proselytize. I bring songs. Like most everybody, I have my firm beliefs and my many doubts. But I'll just keep them to myself, if that's okay. The songs abide." They certainly do.
The tracks were laid down in two days in March 2017, just Joel's guitar work and voice to capture the spirit of these songs and tunes. This collection features songs and tunes from African-American spirituals, Methodist hymns, English carols and more.
The CD starts off with "Four Early Shape Note Hymns," traditional melodies that Joel arranged for guitar. All of the cuts on this CD feature adaptations and arrangements by Joel. Originally, the CD was going to be an instrumental collection, but Joel wrote a few verses to old hymns that fit the thematic direction of the recording and Joel began incorporating other songs into the project.
One of my favorite cuts is a spirited rendition of "God Don't Like It – I Don't Either," a song about drinking moonshine liquor in church that was recorded by Sister Rosetta Thorpe. Joel wrote new lyrics that deal with money and God. Another perfect song for our times.
"Stand By Me," a song written by Rev. Charles Albert Tindley, has been recorded by many artists including Elvis Presley and is reportedly the gospel song that inspired Leiber & Stoller to write the song with the same name that Ben E. King recorded. Joel adds a touch of country to the traditional song for his performance.
Perhaps my favorite song on this CD is "One Simple Song." The tune is Jean Sibelius' "Finlandia" and has been used by other songwriters over the years for their own lyrics. The words that Joel wrote are a plea for peace and I find it deeply moving.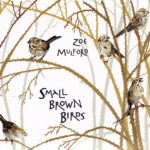 ZOE MULFORD
SMALL BROWN BIRDS
Azalea City Recordings – www.azaleacityrecordings.com, www.zoemulford.com
Zoe Mulford divides her time between her native United States and the United Kingdom, where her husband is a professor at a university. This has enabled Zoe to develop a deeper perspective on both Appalachian and British Isles traditional music which she incorporates in her songs. Her fifth CD Small Brown Birds is the result of her exposure to these traditions and musicians.
The title cut is an instrumental featuring Zoe playing clawhammer-style banjo. She spent time living in North Carolina in the '90s and was inspired by artists like the Red Clay Ramblers. It has inspired her original music as witnessed by the song "February Thunder" about a woman emerging from winter into spring, to which she weaves in the old-timey tune "Frosty Morning."
The sense of community comes through many of her songs, particularly in Answer the Knock at the Door.  This welcoming song kicks off the CD and reminds us to open up our hearts to family, friends and strangers. The spirit is also evidenced in Won't You Come on In?, an invitation to join in the hospitality of singing together.
Perhaps the most powerful song on the CD is "The President Sang Amazing Grace." This song relates the events of the 2015 shooting at the Emanuel Baptist Church in South Carolina and the moving eulogy that President Obama gave at the memorial. This song also caught the attention of Joan Baez who has been singing it in concert (to standing ovations) and is planning on recording it on her next, and reportedly last, release.
Zoe's CD was released in the depths of winter in early 2017, a time of transition and change not only in the seasons but also in our politics and social issues. Zoe gave us a collection of songs that help us deal with grief and helps us continue to believe in hope and community.



SAM GLEAVES & TYLER HUGHES
SAM GLEAVES & TYLER HUGHES
self – www.tylersammusic.com
Sam Gleaves previously appeared on my favorites list of 2015 for his solo CD Ain't We Brothers.  2017 saw the release of the self-titled CD from  the duo of Sam and Tyler Hughes and it was another stunning recording. Both Sam and Tyler hail from Virginia and each developed a love and respect for the traditional music of Appalachia.
On their debut CD as a duo, Sam and Tyler created a few contemporary songs in the traditional styles to tell stories of Appalachian life in the present, brilliantly mixing with songs written by people like Maybelle Carter, Wade Mainer, Ola Belle Reed and others. A couple of traditional tunes also are featured to round out a lively and important collection.
Sam wrote "Stockyard Hill" based on stories he learned from his great aunt describing life in Appalachia and the important roles played by music, church and community. The song concludes with the traditional tune "Did You Ever See the Devil, Uncle Joe."
One song that really stands out is "When We Love," written by Tyler Hughes in the days following the 2016 Presidential election. With the election of Trump dividing the country, Tyler wrote a song that reminds us that love is the greatest weapon each of us holds to spread compassion and fight hate. I saw Sam and Tyler perform this song at the 2017 Old Songs Festival to a very enthusiastic response. Songs like "When We Love" are urgently needed to help guide us toward a common goal.
At a march on Washington in early 2017, Sam and Tyler were carrying a sign calling for Bread and Roses and found that they had to explain to the history of the political slogan to younger marchers. Sam and Tyler chose to include the song on their CD to help re-introduce the song and it's message to new audiences. The lyrics were written in 1911 by James Oppenheim, based on a slogan that originated from a speech given by the women's labor union leader Rose Schneiderman.
The CD, produced by Grammy Award winner Cathy Fink, captures the spirit and energy that can be found in the heart of Appalachia. Sam and Tyler are carrying on the traditions to new generations and giving us a clearer picture of the region beyond the stereotyped images that have been created by other media.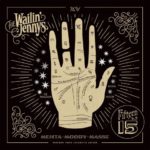 THE WAILIN' JENNYS
FIFTEEN
Red House Records – www.redhouserecords.com, www.thewailinjennys.com
It has been six years since the trio of Nicky Mehta, Ruth Moody and Heather Masse released a new recording. The Canadian trio's lives have changed during that gap with the individual members now living in two countries, each raising young children and finding it difficult to get together. Yet they managed to carve out time and came up with a release that celebrates their 15-year partnership, appropriately titled Fifteen.
The hallmark harmonies of the Wailin' Jennys are heard on a collection of nine of their favorite songs. Since the early days, a Wailin' Jennys concert featured the trio arranging the work of other songwriters, so a covers CD is a welcome release. The songs include the late Tom Petty's "Wildflowers," Emmy Lou  Harris' "Boulder to Birmingham" and Paul Simon's "Love Me Like A Rock," the later updated for a women's perspective. There are also songs from Jane Sibbery, Warren Zevon and Patty Griffin. The timely inclusion of Dolly Parton's "Light of a Clear Blue Morning," performed a cappella, is a much needed song of hope.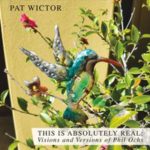 PAT WICTOR
THIS IS ABSOLUTELY REAL: VISIONS AND VERSIONS OF PHIL OCHS
Risky Disc – www.patwictor.com
As his work with Brother Sun was winding down, Pat released his first solo CD in eight years. The idea for the recording had been germinating for many years, starting a dozen years back when Pat began performing with the Phil Ochs Song Nights, a series of concerts organized by Phil's sister Sonny where contemporary artists interpret Phil Ochs songs and share their own.
Pat does not simply "cover" a song. He immerses himself into the song often finding meaning in the words and occasionally changing or adding a lyric or two to enable to the song to live with new audiences. While the recording is a tribute to Phil Ochs, it is also a testament to the artistry of Pat Wictor.
Most of the songs Pat chose might not be familiar to casual Ochs fans, Pat went to some of the deeper tracks from the Phil Ochs songbook. Songs like "Knock on the Door" and "Lincoln Park" are particularly chilling with our current political climate.
Pat also dusts off his electric guitar on "The Trial" and he reveals his doo-wop side for "I'm Tired." These are examples of Pat's captivating arrangements that will hopefully introduce Phil Ochs to new audiences.
"There But For Fortune" is probably the most recognizable song in the collection, but Pat makes it his own with a contemporary arrangement that draws out the message given to us by Phil Ochs.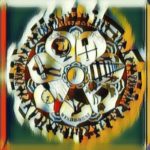 WINDBORNE
SONG ON THE TIMES
self – www.windbornesingers.com
It was an old friend from high school who sent me a note this fall to ask me if I ever played the group Windborne on my radio show. She saw the quartet perform in Michigan and was enthralled by their unique interpretations of folk songs. I am indebted to her for her e-mail as it introduced me to some of the finest singers of protest and folk music that I have ever heard.
Windborne came to life ten years ago as a duo before expanding to a trio and now a quartet. Lynn Mahoney Rowan, Will Thomas Rowan, Lauren Breunig and Jeremy Carter-Gordon were raised in the traditional song and dance communities of New England. The studied traditional singing styles and through their close vocal harmonies they present folk songs from America, England, Corsica, Quebec and more. They also use their music to share both history and ideas, and their 2017 project is a prime example.
Song On the Times is an illustrated songbook and CD that shares songs from working class movements in the US and UK over the past 400 years. The collection includes "Bread and Roses," Florence Reese's "Which Side Are You On," Hazel Dicken's "Fire in the Hole," and a stunning version of Pete Seeger's "Where Have All The Flowers Gone." When I first played "Where Have All the Flowers Gone" on my radio show, the phone lines lit up and I received a number of e-mails. It might have been the strongest reaction I've ever had for playing a new recording.
Once I learned about this group, I began to explore their prior albums. I am amazed by the diversity of their song selections and their deep respect for the various traditions from which they sing. Windborne is a talented group and my only regret is not learning about them sooner. Hopefully more people will discover them in 2018.