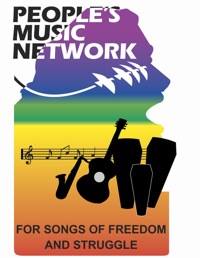 Given the state of the world and the various issues that continue to divide and influence anger in public opinion, you can understand why the People's Music Network has been a flurry of activity over the past few months. With their goal of creating a diverse community of singers, artists and activists to create music and art that address justice and peace, the organization recently sponsored a Social Songs Showcase at NERFA (Northeast Regional Folk Alliance), relaunched their website and are planning their upcoming Winter Gathering. These are just some of the important projects that the People's Music Network community have been involved with.
Founded in 1977 by the staff of Community For Non-Violent Action, the organization developed from an initial event planned as a weekend event where roughly 75 musicians gathered together to develop a stronger connection as a musical community. The first weekend gave birth to an ongoing network of like-minded people which they called Songs of Freedom and Struggle, hosting an annual summer retreat held at camps in New England. Pete Seeger attended the fourth retreat where he saw a gathering of mostly white middle class musicians and challenged the group to improve their diversity. He suggested future events be held in urban settings to open up opportunities for a more diverse attendance . In response, the first Winter Weekend was held in 1981 and featured gospel choirs, Asian drumming, Nueva Cancion artists and also a new name – The People's Music Network.
Since then, The People's Music Network has grown to include two annual gatherings – a summer event held in a rural setting and a winter gathering held in an urban area. PMN members work to develop and promote "people's music" by promoting performance opportunities, creating contacts and encouraging singers, artists and activists to work together to cultivate music that will help encourage justice and peace in the world.
SOCIAL JUSTICE SONGS SHOWCASE
In November, I had the honor of being one of three judges at the People's Music Network's annual Social Justice Songs Showcase at NERFA. This has become a highlight for me at each annual conference, and I've been lucky to be a judge for the past three years. The showcase grew out of another People's Music Network project, the PMN Song of the Month. The idea of Song of the Month is to highlight inspiring new songs that grow out of the various progressive movements in our culture. For the NERFA showcase, artists are encouraged to submit songs that support a just and peaceful world. There were over 45 entries, and 12 were chosen to perform their song at the NERFA showcase. The twelve performances were judged by award winning songwriter and author Jane Fallon; Ron Cooke, the host of "Music You Don't Want to Hear" on KTAL in Las Cruces, New Mexico and myself.
While we were give the unenviable task of choosing one "winner," in truth all 12 songs were powerful and deserve to be heard by wider audiences and utilized at events. The song topics ranged from class oppression, US military domination, racism, the rights of immigrants and refugees, the distortions of political thought today, and hope for a better world. We were asked to judge the songs based on their political effectiveness, musical and lyrical craft, and relevance to the struggles for freedom and justice we face in today's world.
The artists and the songs we heard were:
Banjo Nickaru & Western Scooches, Get Us Out Of Fear Land
Emma's Revolution, Still Here
Crys Matthews,  Battle Hymn for an Army of Lovers
Chris LaVancher, Nostalgia
David Roth,  Home of the Brave
Bev Grant, I Am A Sewing Machine
Mark Kilianski, The Blue Sky Ain't No Friend Of Mine
Eleanor Kleiner, Fat Cat
Dave Richardson, We Got A Boat
Bethlehem and Sad Patrick, Mother of Exiles
Mike Glick, We Shall Be Free
Judy Kass, Look at us Marching Now
The song and artist we selected as the "winner" was Battle Hymn for an Army of Lovers by Crys Matthews. As Ron Cooke observed, her song was "very well crafted, compelling and performed with passion". In a day and age when issues and elected officials have created a great divide among people, Crys crafted a song that reminds us to look into our hearts and not change our attitude about love and hope. Crys utilized Michelle Obama's now famous quote from the 2016 Democratic Convention as the final line in the chorus:
"So when you find yourself
incapable of seeing eye to eye
Remember: when they go low, we go high".
"Crys Matthew's winning song managed to set a simple, yet hard hitting message with undeniable political relevance, to a catchy singable melody" noted Jane Fallon. While the current occupant of the White House has impacted our daily conversations, the second verse of the song declares that
"We gave a madman all the keys and let him walk right in the door.
And I don't think he'll see the light,
Until the whole world is on fire,
But that's alright.
We'll still be here when he's gone
And if it doesn't kill us all,
Will it sure will make us strong.
Don't let four years change your heart!
We are not born hating each other – now is not the time to start."
"The high quality and excellent performances made the judging very difficult" Ron Cooke remarked. Indeed it was. The variety of topics and styles of song made it hard, and perhaps unfair to choose a single song. We were impressed and moved by all of the songs we heard.
Among the other notable songs was David Roth's Home of the Brave. Written by David with JD Martin and Karen Druck, the song took a fresh approach to the subject of immigration and the threats of deportation. The verses introduce us to a two individuals – an illegal immigrant named Guadalupe who faces deportation and separation from her children that were born in the US and a student named Kamal who was studying medicine in New York who could not return to this country after visiting his mother in Sudan. The song ponders what the singer would do if he had to leave his country because "the way I dressed was a trigger for you". He reminds us that in the "land of the free" we are "immigrants and pilgrims and refugees from every nation." The chorus hits home with the words:
"when you come for Guadalupe,
for Kamal,
when you come for my neighbor,
you come for me".
Bev Grant
offered
I Am A Sewing Machine
, a subtle and clever statement about young girls and women working in sweatshops around the globe. "Bev's use of personification of an inanimate object brings the plight of the girls working in sweatshops in foreign countries home to roost" Jane Fallon observed. "Out of sight is not out if mind."
"What an anthem!" Ron Cooke declared when we heard
We Shall Be Free
written and given a stirring performance by
Mike Glick
, backed by his son Alexi. "Sing this one with a group" Ron added.
We were also impressed by
Chris LaVancher
's song
Nostalgia
. From time to time, most of us will think back on the past while wearing rose colored glasses, but Chris effectively strips away the notions we may have of supposedly "simpler" times to expose the impact of politics on a typical family as times and politics evolve. "Chris's poignant, specific lyrics paint a picture of changing times" Jane Fallon declared, "reflecting on why our last election went the way it did, and why our culture cannot look back."
All of the 12 songs we heard were engaging and relevant to the issues we face today. I found them to effective, inspiring and offering hope, comfort and a pause to think. They summarize the goals of People's Music Network in that they encourage artists to write songs about important topics that will inspire critical thought and hopefully political action. I look forward to sharing them on the radio.
WEBSITE RELAUNCH
Earlier this month, the People's Music Network launched a new and improved website. The site maintains an online public directory of members, giving users the opportunity to contact and learn more about the artists, as well as news and information about upcoming events. There is also a detailed history of the People's Music Network and past gatherings available at the site. Members of the People's Music Network also can utilize special features including a members only discussion forum, special discounts and the ability to post in their contact information to the public directory. You can visit the site at www.peoplesmusic.org
WINTER GATHERING 2018
People's Music Network's Winter Gathering for 2018 will be held in the Greater Boston area the weekend of January 27 and 28. There will be a kickoff concert on Friday evening January 25 at the First Parish in Cambridge. The concert will feature People's Music Network Artists in Residence, Charlie King and Rick Burkhardt as well as other inspiring artists and groups. Then on Saturday January 27 and Sunday January 28, the Pierce School in Brookline, Massachusetts will be the location for a variety of workshops, song swaps, mentoring sessions and a Saturday night "round robin" concert that will highlight the role of music in creating progressive social change. People's Music Network will also offer programming for children and teens through their "Youth Creative Convergence" "mini-conference" at the gathering. It will be an opportunity for young people to connect with creative projects dealing with social and environmental causes.
Looking ahead to June, the Summer Gathering for 2018 will take place at Camp Kinderland in Tolland, Massachusetts.
* * *
Whenever I hear people say "what has become of the protest and topical singers?", I point them in the direction of People's Music Network For Songs of Freedom and Struggle. Pop culture and commercial media might try to put socially relevant songs on the back burner, but thanks to the work of People's Music Network, progressive songwriters are flourishing. The headlines of the day might give them too much material to work with, but it is important that this work continues. Some cynics might say that these artists are simply "preaching to the choir", but that is wrong on many counts. First, a "choir" is built as a community of singers, and the choir needs encouragement in order to effectively join their voices together to produce a unified sound. These songs provide inspiration and courage while reminding us that we are not alone in the fight for justice. Second, these songs, when used effectively, will be heard by others and will promote thinking and discussion.
As Pete Seeger used to say "the right song at the right time can change history".