Readers of this blog will note that I have frequently discussed, reviewed and extolled the virtues of the Old Songs Festival that takes place each June in Altamont, New York. I am happy to report that the 2017 edition, the 37th Annual Old Songs Folk Festival of Traditional Music and Dance, was no exception – it was another marvelous weekend!
Since 1981, the Old Songs Festival has been an annual event in the New York State Capital Region. The festival is organized by Old Songs, Inc., a not-for-profit organization that keeps traditional music and dance alive in the area through the festival as well as series of concerts, dances and educational programs.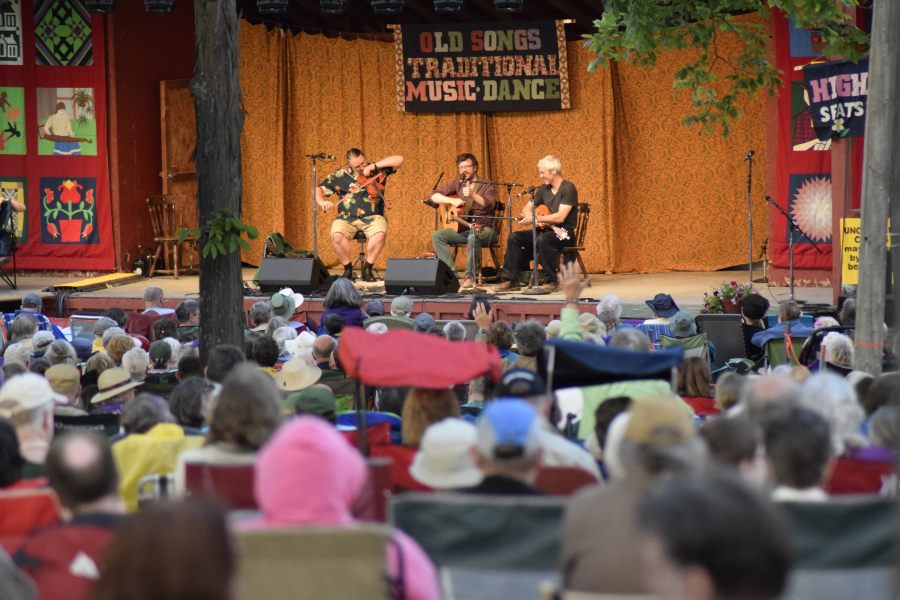 Due to some car troubles, I was late getting to this year's festivities. I had hoped to get there early enough to sit in one of the "classes" that are held on Friday afternoon (Tyler Hughes and Sam Gleaves were presenting a workshop on LGBTQ stories in traditional music that sounded fascinating), and then I had hoped to enjoy the presentation of Forward into the Light – a performance of story and song that honors the American Women's Suffrage Movement in New York State. Alas, after waiting to get new tires for the Folk Mobile (trademark pending) and I did not roll into the Altamont Fairgrounds until 6:45pm. The Old Songs organization has put together several programs of this type in the past and each one has been entertaining as well as educational, blending story with song and theatrics.
Although I arrived late, I still got there in plenty of time to enjoy the bulk of the Friday evening concert. Once again John Roberts was serving as emcee. ANYONE who wishes to emcee should take time to watch John. He knows how to entertain a crowd and keep the evening flowing while the stage crew sets up the next act. With his vast collection of folk songs, he is worth the price of admission alone!
The Down Hill Strugglers kicked off the evening, and I heard their set's final songs as I was walking in from the parking lot. John Cohen, one of the founding members of the New Lost City Ramblers, performed with the group and together they delivered a set of old-timey classics. If you have not caught this Brooklyn based group (if you haven't heard, Brooklyn IS the epicenter of the folk music in the NYC area!), you owe it to yourself to pick up their latest CD.
Another outstanding performance on Friday night in the old-timey vein came from Tyler Hughes and Sam Gleaves. I first met Sam in 2015 when his solo CD Ain't We Brothers  was released. The title track caught my attention and I have played it several times on my radio show and I know it was picked up for airplay on programs across the nation. The song tells the true story of a coal miner whose co-workers learn that he is gay and proceed to ostracize him. The miner ended up suing the coal company and won. Sam shares this story and points out simple facts of how everyone should be able to love those that they choose. A few weeks ago, Sam and Tyler Hughes released a self-titled duo CD. The duo share songs that are steeped in the traditional music vein, mixing old time country with newly written songs that weave powerful messages and stories. One song, "When We Love", was written by Tyler in reaction to the Trump election this past November. Tyler and Sam performed the song on the main stage at Old Songs and received thunderous applause from the enthusiastic audience.
Joe Jencks and Si Kahn closed out the Friday evening festivities with a memorable set. These two socially conscious artists have teamed up to do a series of shows and a CD is planned for release in the fall. Si Kahn has released 18 recordings during his illustrious career and his songs have been recorded and performed by hundreds of artists from around the globe. Joe Jencks, currently a member of the trio Brother Sun, is an acclaimed veteran of the folk circuit who merges his conservatory training with his blue collar background. Si and Joe's powerful set together was a perfect way to end the first evening of Old Songs, sending the crowd home (or to their tents) infused with the spirit of our community.
John Roberts was the main stage emcee on Friday night and Anne Hills took over the duty on Saturday. Bill Spence and Roger the Jester once again deftly handled the task for the Sunday afternoon closing concert. Emcees of their caliber do more than just fill time, they keep the event moving and become a welcome part of the festivities, not just a filler. I always look forward to the wonderful gems that the Old Songs emcees share with the crowd!
Throughout the weekend, we were treated to dozens of wonderful workshops and performances. One of the most memorable for me was a workshop on the songs of George Ward. George is a regional favorite who deserves a wider audience. He is known for capturing the folk history of New York and New England in story and song. A lifelong folklorist and collector of traditional songs, George also composes songs in traditional styles. He is well known for his pieces about the history of the Erie Canal. Joined on stage by Dave Ruch and John Roberts, the workshop showcased the depth of his original music and the audience was appreciative.
Another enlightening workshop was one given by Brendan Taaffe. A Minnesota native who now calls Brattleboro, Vermont home, Brendan gave a workshop on "crankies", the old-fashion moving hand rolled panorama shows that pre-dated movies. Crankies were illustrated stories that would be used to visually impart either a story or song. Brendan did a superb song of singing along to the illustrations. He exhibited his crankies in the Dutch Barn, a setting that helped transport us back to a time when these visual storytelling devices were more common.
A few additional performers that I personally enjoyed and feel deserve greater attention – Grammy award winning flat-picker and Prairie Home Companion alumni
Pat Donohue
; the delightful blend of folk, jazz and blues conveyed by the
Heather Pierson Acoustic Trio
; the inspired teaming of folk circuit veterans
Scott Ainslie and Reggie Harris
and the lovely harmonies of the
Waxwing Four
.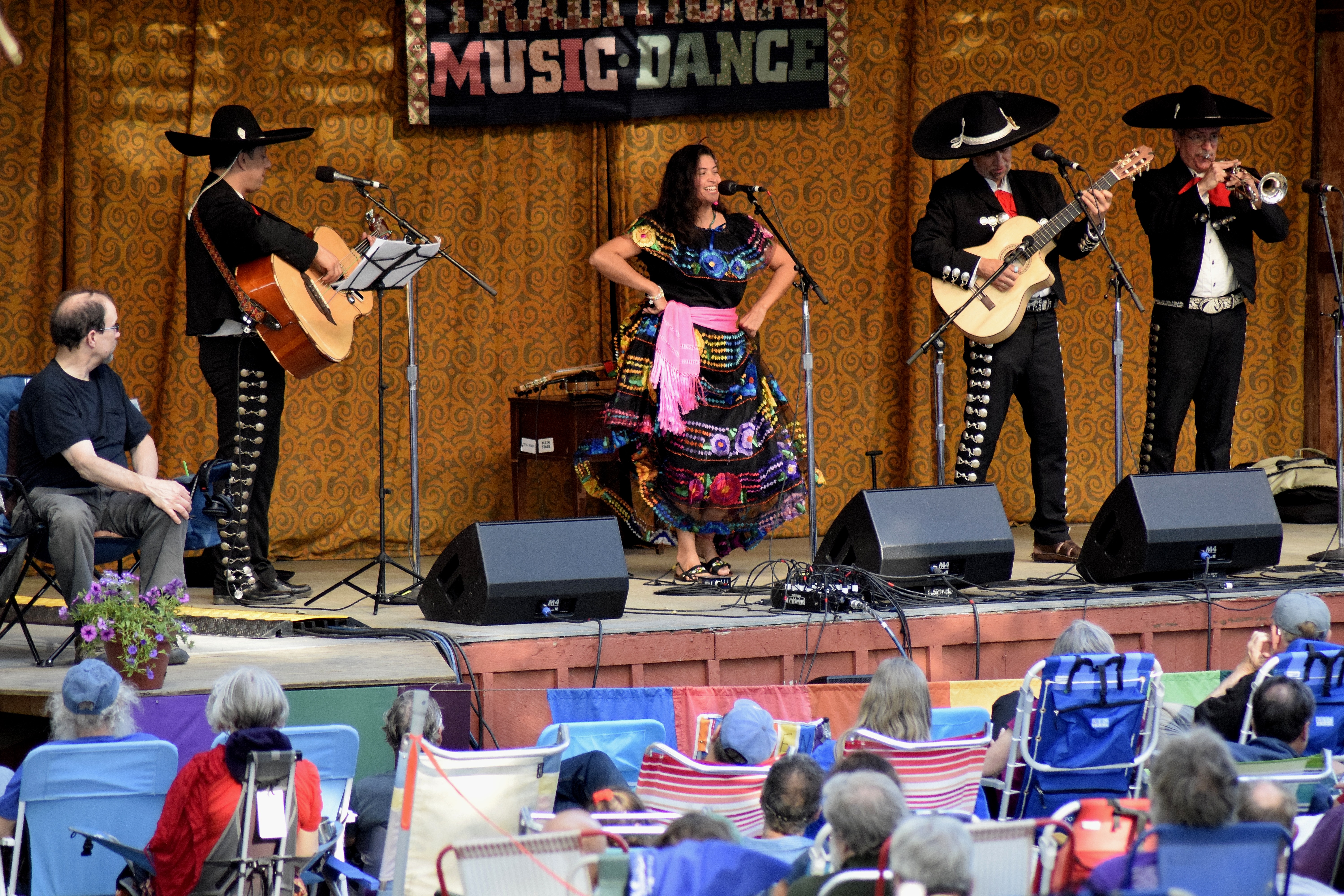 While certainly not a political festival, the music presented at Old Songs throughout the weekend served as a reminder to the importance of sharing cultures. As I watched Mexican band Fiesta Del Norte wow the crowd, the person sitting next to me mentioned that they could hear strains of Klezmer music in the performance. Over the course of the weekend, we were entertained and enlightened by the Tuvan throat singing trio Alash, French-Candian tunes from the duo of Pascal Gemme and Yann Falquet; Scottish treasure Archie Fisher and other Anglo-Celtic performers from both sides of the Atlantic. The global connections of various cultures that make folk music so endearing were in evidence and proved that we do not need walls, we need events like Old Songs to show how we connect and can learn from each other. Harmony is more than just a musical process.
Once again, the post-concert Contra Dances became a gathering for multi-generations of enthusiasts. I love seeing teenagers and senior citizens together on the dance floor enjoying each other's company. New England is a hotbed for contra dancing and is also a highlight at other festivals throughout the Northeast. I hope these social gatherings become more commonplace throughout the country.
I also loved the numerous jam sessions that were taking place all weekend. These sessions also gathered various generations together to share in making music. Seeing John Cohen sitting in with other lovers of old time tunes was blissful. Having fun together is a social aspect that reminds of that the music and dance we love was not originally designed for exhibition but rather for participating.
It was a memorable weekend. The weather gave us a few brief showers and a magnificent double rainbow on Saturday night. As Anne Hills pointed out, the rainbow ended at the beer truck! I admit, it drew me to sample some amazing craft beer! A mug of gold brew was welcome!
I left Old Songs with a feeling of hope and contentment. As I've said before, Old Songs is my annual "booster shot" that crystalizes everything I love about folk music. There are many wonderful and important festivals that take place each year across the United States and Canada, but Old Songs holds a special place in my heart. Although part of me loves the intimacy of Old Songs, I do hope that more people will discover this beautiful festival next year. You can't help but become enchanted with both the music and the loving folk community Old Songs represents. I am now counting the days until the 2018 fest begins.