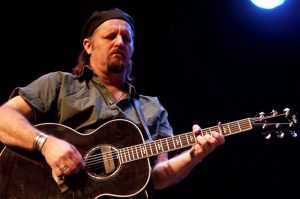 We sadly note the passing of the great Texas singer, songwriter and interpreter, Jimmy LaFave, who died the evening of May 21st from a rare, deadly form of cancer (an aggressive type of sarcoma). He was 61.
Along with his own songs, and his masterful interpretations of classic pieces of Americana, Jimmy was one of the foremost interpreters of the music of Woody Guthrie, and an inspiration for the revival of Guthrie's work, with new musical settings for scores of Guthrie archival material, previously unrecorded and set to melody for the first time.
Jimmy's soulful, road weary tenor seared everything he sang right into your heart. He always sang with a passion and honesty that made him one of the best at what he did … and beloved by his fans (which was pretty much anyone who ever heard him). Just days before he passed, musicians gathered for a tribute to LaFave's music and life … culminating with a final, beautiful performance, by Jimmy, of "Goodnight, Irene."
Here is a trio of recently recorded interviews (with musicologist Bob Santelli) where Jimmy, in his own words talks of his life and music … followed by his performance of Dylan's "You're Gonna Make Me Lonesome When You Go" from just last month at the legendary Threadgill's in Austin.