One of the most remarkable recordings that crossed my threshold in recent months is Pat Wictor's This Is Absolutely Real: Visions and Versions of Phil Ochs. Keeping himself busy as a member of Brother Sun, it has been eight years since Pat last released a solo recording. As the trio prepares for their final tour in 2017, each member has been busy planning for the future. Greg Greenway released a solo CD in 2016, Joe Jencks just debuted his, and now we have this master work from Pat Wictor.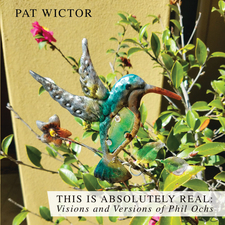 It would have been easy to select from the well-known setlist of Phil Ochs classics. The words of the legendary protest singer have become "standards" of the contemporary folk community since Ochs took his own life back in 1976. With the struggles we face in 2017, re-listening to the topical songs of a different era might have been welcome to some ears, but Pat took a different – and ultimately a more relevant approach.
Pat chose nine songs that might not be as well known to the casual Ochs fan, but they show the beautiful poetry that embodied the work of Phil Ochs. The songs Pat selected are reaffirming and ask important questions. By choosing these deeper tracks from Phil Ochs song book, Pat reveals both the beauty and depth of Ochs' artistic achievements while adding to his own impressive accomplishments as a creative musician.
Known for his exceptional slide guitar, Pat complements his arsenal with impressive electric guitar to create fresh new sounds for these Phil Ochs gems. Pat does take some liberties with melodies and additional lyrics, but this serves to make these songs relevant to modern audiences and exposes new facets to the songs. The imagery, phrasing and melody that Ochs created are still present, and warmly respected by Pat.
Knock on the Door is one song that Pat updated with new lyrics, and the result is potent. (Pat's recording of this song was #6 on the FolkDJ Top Songs for March). The original song was released in 1964 as the Cold War was heating up and Ochs' verses addressed the abuse of power. Flash forward to 2017 and Pat reminds us that we still need to remain vigilante to the behavior of those who lead us. Similarly, Pat chose to sing William Butler Yeats Visits Lincoln Park and Escapes Unscathed, a song Phil Ochs wrote about what he witnessed in Chicago at the 1968 Democratic Convention. The song has always been a reminder to me of consequences of confrontation between different ideals and it gives us pause to reflect on the losses we can face by taking a stand.
The rarely heard First Snow was recorded by Phil Ochs in 1963 on a demo tape but not released until years after Ochs death. With Pat adding some lap steel, acoustic and electric guitar to back his vocals, he gives this haunting song about loss the memorable setting it deserves. A stunning example showing the lyrical beauty of Phil Ochs poetry in the proper light.
I'm Tired is another Phil Ochs gem that was written in the 1960s but not released until a decade after his death. (The lyrics were first printed in Broadside #147 from December 1983 and can be read here in the Boradside Magazine archive at Sing Out! Magazine's website – CLICK HERE TO READ BROADSIDE 147.   The recording appeared on A Toast to Those Who are Gone, released in 1986). Pat chose to record the song with just his voice –  he accompanies his lead vocals with his own "street corner harmony" to which he adds some surprisingly appropriate (and impressive) vocal percussion while still conveying the bleakness and hopelessness of the original lyrics.
While the topical streak that made Ochs so popular in his day can be found in these songs, they are also more introspective than the standard Ochs songs that are often celebrated. Pat has been a part of the Phil Ochs Song Nights for a number of years. Organized by Phil's sister Sonny, the Phil Ochs Song Nights travel to venues across the country and have kept the music of Phil Ochs alive and a vital part of our folk community. Pat's participation in the series has led him to examine these songs and introduce his own personality and perception to these works of art.
This welcome collection celebrates two outstanding voices – the iconic Phil Ochs as well as contemporary folk music's standard-bearer, Pat Wictor.
* * *
To hear a discussion with Pat about this album and to listen to samples of the recording, please click on the link below to hear Pat's visit with Ron Olesko on WFDU-FM's TRADITIONS