"When he was on, no one could auto-desecrate better. 'He who is not busy being born is busy dying,' he famously intoned in "It's Alright Ma (I'm Only Bleeding)," and way before the aphorism became worthy of inclusion in Bartlett's Familiar Quotations, he knew that inspiration was episodic, that it was all too easy to become sick of yourself and all of your creations."
—David Yaffe on Bob Dylan
Prelude
St. Paul provided the text. Bob Dylan then provided the anthem.
One morning a few weeks ago, I woke up with the phrase "Do not be conformed to this world, but be transformed by the renewing of your mind…" running through my head. It's part of a verse from Paul's Epistle to the Romans. It's one that Martin Luther King, Jr. would preach on. It provides a source of rebuttal to other passages from Romans less friendly to those practicing civil disobedience.
This waking mantra was an odd thing. I can't think of another time I've woken with a Bible passage ringing in my mind this way. Song lyrics are more common, which is unsurprising given how often I stick my head inside a song and look around. Paul's advice soon gave way in my thoughts to Dylan's observation "that he not busy being born is busy dying" from Bringing It All Back Home's "It's Alright, Ma (I'm Only Bleeding)." The two quotes bubbled up for me because of this blog, for reasons that I will explore before we're done.
In the meantime, we need to understand how "It's Alright, Ma (I'm Only Bleeding)" is a matter of life and death.
Darkness at the break of noon
I felt drawn into this song. Dylan's sweeping poetic masterpiece is an artist's "Conversation with Death." It is a work of poetry that certainly landed in the "credit" column in Dylan's account with the Nobel Committee. Dylan infuses musical tension in the arrangement and into the hypnotic rhyme of the lyrics. The lyrics obey a strict structure through five sets of verses. It is a declaration of independence in Dylan's much heralded transition from the one who burst onto the folk scene "already a legend" to uncompromising, restless, and enigmatic rock artist.
Bringing it All Back Home foreshadows "It's Alright, Ma's" artist's statement earlier in the album with the opening lines of "She Belongs to Me":
She's got everything she needs, she's an artist
she don't look back.
Whether Dylan drew inspiration in this ironically titled song from a real woman in his life or from Euterpe or one of her sister Muses, the line hints of what's to come. Dylan here begins defining the principled stance the artist takes in the world: Don't look back. Whoever she is, the lyrics make clear she doesn't really belong to him.
"Maggie's Farm," the song that blew up the Newport Folk Festival, follows next. In it, Dylan declares that he won't labor in the fields of the folk "establishment."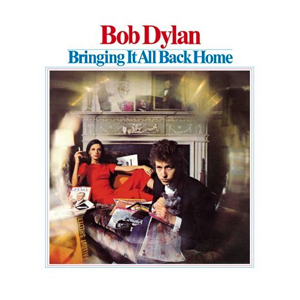 I ain't gonna work on Maggie's farm no more
No, I ain't gonna work on Maggie's farm no more
Well, I try my best
To be just like I am
But everybody wants you
To be just like them
They sing while you slave and I just get bored
I ain't gonna work on Maggie's farm no more
Listen to Dylan's "A Hard Rain's A-Gonna Fall" from his Live at the Gaslight 1962 to get a sense of the vibe he bridles against here. With no disrespect to the Pete Seeger approach, Dylan was not going to be in the business of convening sing-alongs.
Bringing It All Back Home's revolutionary, electrified A-side eventually yields to an acoustic B-side, leading off with "Bob Dylan's 115th Dream," "Mr. Tambourine Man," and "Gates of Eden." "Mr. Tambourine Man" was the song that first turned me on to Dylan as a teenager, opening a new dimension in my musical imagination. (Thanks, Dad.)
"It's Alright, Ma (I'm Only Bleeding)" starts spare and ominous. The stark guitar intro yields quickly to Dylan's rhythmic recitation. The stanzas build tension through the opening salvo of words, including the famous phrase that brought me here, in the song's second verse:
Pointed threats, they bluff with scorn
Suicide remarks are torn
From the fool's gold mouthpiece the hollow horn
Plays wasted words, proves to warn
That he not busy being born is busy dying
The three line choruses at after every three verses brings bring relief from the tension, and reassurance that it's alright, Ma. Dylan hews to the AAAAAE BBBBBE CCCCCE DDE rhyme structure in a way that delights the ear.