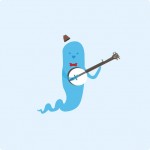 This week we celebrate music for the Haunting Season of Halloween. Some songs and tunes have a deep spiritual significance and others are just for fun.
We'll feature ancient melodies and classic tunes as well as a Native American story about the supernatural and a selection from the Sacred Harp. Turn down the lights and light the candle in the jack'o'lantern and prepared to get scared.
LISTEN:
To subscribe via iTunes, click . | To listen using Stitcher, click .
Artist / "Title" / CD / Label
Pete Seeger / "If I Had A Hammer"(excerpt) / Songs of Hope and Struggle / Smithsonian Folkways
Sven Nyhus / "Fanitullen-The Devil's Tune" / Devil's Tune / Northside
Touchstone / "Susanna Martin" / The New Land / Green Linnet
Joel Mabus / "Two Little Sisters" / Pepper's Ghost / Fossil
Sacred Harp Singers at Liberty Church / "Idumea" / Cold Mountain / Columbia-DMZ
Murray Porter / "Dog Lover" / Legends-I Am An Eagle / Curb
Edden Hammons / "Queen of the Earth, Child of the Skies" / Edden Hammons Collection Vol. 1
WV University Press
Sven Nyhus / "Fandens Polsdans-The Devils Pols Dance" / Devil's Tune / Northside
Tim O'Brien & the O'Boys/ "He Had a Long Chain On" / Oh Boy!, Oh Boy! / Sugar Hill
Archie Fisher / "Witch of the West-mer-lands" / The Man with the Rhyme / Folk Legacy
The Strawbs / "Witchwood" / From the Witchwood / A+M
Anne Hills / "Nine Little Goblins" / Ef' You Don't Watch Out / Collective Works
Sarah Jarosz / "Annabelle Lee" / Follow Me Down / Sugar Hill
Victor Furtado / "Ghost on Hippie Hill" / Victor Furtado / Patuxent
Pete Seeger / "If I Had A Hammer"(excerpt) / Songs of Hope and Struggle / Smithsonian Folkways