Country Gothic
In her oft-cited 1998 essay, "Bloody Daggers and Lonesome Graveyards: The Gothic and Country Music," Teresa Goddu contrasts "bluegrass" and country. I put "bluegrass" in quotes because the term in the essay mostly means songs that carry the legacy of  what Goddu refers to as "the Gothic." Bluegrass does this through adapting old-time country, folk ballads, and African-American blues songs. Goddu, though, writes of "bluegrass" as the source of bloody, murderous themes. She describes "bluegrass" as older than country, bearing the legacy of darker impulses of the South (i.e. "the Gothic"), although she briefly acknowledges that bluegrass is newer than country, which it is.
Goddu's overdrawn contrast mainly serves to distinguish folk traditions from modern country's more pop-oriented compositions, which are often original stories by professional songwriters. This latter kind of  "Nashville pop" has populated the country genre from at least the middle decades of the 20th century. In Goddu's reading, gothic themes present a stereotype threat about Southern-ness that country, as a hit-making industry, wishes to avoid. Her critique has some truth to it, although it also has holes.
Cuckolded Killers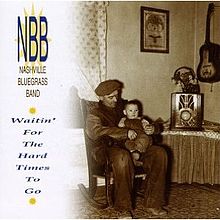 Today's lead song reappeared on my radar because Goddu mentions it as an example of "bluegrass's" gothic themes. She cites the Nashville Bluegrass Band's performance of "Open Pit Mine" as an example of how bluegrass goes to those darker places country music avoids. The difficulty here is that she doesn't mention that "Open Pit Mine" was a hit for country music icon George Jones 31 years before the Nashville Bluegrass Band released their version. This mainstream country origin undercuts part of her thesis.
I want to explore how "Open Pit Mine" and some songs that followed it resemble older folk murder balladry without actually deriving from the "folk process" of older songs. "The Gothic" appears again in these songs in the service of reinforcing certain values. In that sense, they reprise a dynamic of some of the traditional murder ballads we've discussed, just with new social mores.
These new country songs feel more like products to be consumed than songs emerging as stories we sing together. They exhibit writerly touches and contrived action compressed into a few short verses. They are not bizarre or mysterious like the old songs, to us at least, Instead, they spring from some decidedly conventional and obvious motivations. By saying this, I don't mean to legitimize their violence. It's just that the killer's motive is much less mysterious than it is, for instance, in "Down in the Willow Garden," "Knoxville Girl," or even "Lily of the West."
"Open Pit Mine" is first in a trajectory of murder ballads we will trace today: "Cuckolded Killer" songs. We've heard songs in this strain before. Willie Nelson's "Time of the Preacher" is one, as is Mel Tillis's "Ruby, Don't Take Your Love to Town." Our list is not fully exhaustive even of infidelity murder ballads, much less other violent mainstream country songs, but it presents some common themes of mainstream country murder ballads of the past 60 years. They show both that "the Gothic" is more common in mainstream country than Goddu suggests. They also demonstrate some themes of gender and power to which Goddu's essay rightly draws our attention.
"Open Pit Mine"
In fairness to Goddu, even in the original, "Open Pit Mine" sounds more like bluegrass than much of the rest of Jones's oeuvre. Its spare instrumentation and its "chunk-plink-plink" banjo waltz tempo place it far closer to bluegrass than the rockabilly "White Lightnin'," for instance.
Jones released "Open Pit Mine" as a single in 1962.  D.T. Gentry wrote the song, and it ascended to #13 on the U.S. Country charts. You can hear echoes in it of other Jones hits, like the enormously popular "Window Up Above," and "Golden Ring." While not explicit about marriage, jewelry changes hands. We will hear "Open Pit Mine's" theme of the hardworking husband and his lonely-at-home spouse many more times. It is also the only murder-suicide song of this group.
While folk ballads have a long history of depicting violence against women for suspicions or insecurity about one's future, as in "Down in the Willow Garden," "Pretty Polly," or "Banks of the Ohio," this modern country trajectory of songs usually involves observed infidelity, often within marriages. The cheating woman and her lover are caught in the act. Unlike with "Ruby," we have no reasonable doubt.
Up until recently, only men had (or took) this course of action in mainstream country. Loretta Lynn may have threatened to send her rival to "Fist City" in the 60s for trying to seduce her husband. As Becky has shown, "The Box That it Came In" and "The Heel" voice murderousness, but don't do it. Dolly Parton merely pleads with "Jolene." Women don't really start killing cheating husbands in mainstream country songs until around the turn of the 21st century. This is more or less the same time that country songs also describe women killing abusive husbands, as in "Independence Day" or "Goodbye Earl."
"Open Pit Mine" does make for a good bluegrass song, but Morenci, Arizona as its setting should have signaled Goddu to dig deeper. if you will.