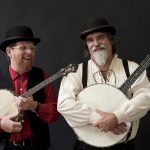 One of the most durable combinations in folf music is the duo. Join me this week and next as we hear classic and more recent combinations of singers and instrumentalists including Tim O'Brien & Darrell Scott, Mark Mandeville & Raianne Richards, Ian & Sylvia and many more.
This week I've pulled together a bunch of tunes that are entertaining for parents and children alike. So call your family together for an hour great music!
LISTEN:
To subscribe via iTunes, click . | To listen using Stitcher, click .
Artist / "Title" / CD / Label
Pete Seeger / "If I Had A Hammer"(excerpt) / Songs of Hope and Struggle / Smithsonian Folkways
John Kirk & Trish Miller / "Shippies Ledge" / Quicksteppin' / Quickstep Music
Tim O'Brien & Darrell Scott / "Brother Wind" / Memories and Moments / Full Skies
Susie Burke & Davis Surette / "Blind Mary-The Rambling Pitchfork" / When the Small Birds Sweetly Sing / Madrina
Jane Voss & Hoyle Osborne / "The Galaxy Song" / Beyond the Boundaries / Ripple
Mark Mandeville & Raianne Richards / "Don't Ever Stop Believing" / Grain by Grain / Nobody's Favorite Records
Paul Rishell & Annie Raines / "Blues for Tampa Red" / I Want You to Know / Tone-Cool
Fraser & Debolt / "Them Dance Hall Girls" / Fraser & Debolt (with Ian Guenther) / Columbia
Jim & Jesse / "Are You Missing Me" / 1952-1955 / Bear Family
John Kirk & Trish Miller / "French Canadian Medley" / Quicksteppin' / Quickstep Music
Rob Ickes & Trey Hensley / "Georgia on a Fast Train" / Before the Sun Goes Down / Compass
Ian & Sylvia / "When First Unto this Country" / Ian & Sylvia / Vanguard
Cedric Watson & Corey Ledet / "Richard Two-Step" / Gon' Down to Louisiana / Valcour
Larry Hanks & Deborah Robins / "Apple Picker's Reel" / Old Days / Zippety Whippet
Hot Tuna / "Hesitation Blues" / Hot Tuna / RCA
Kate MacLeod & Kat Eggleston / "Rantin' Roarin"Robin" / Lost and Found / Waterbug
Banjo Mechanics / "Snowbound" / JLP / Self Produced
Pete Seeger / "If I Had A Hammer"(excerpt) / Songs of Hope and Struggle / Smithsonian Folkways