Seventeen songs, two guitars, one voice and an engineer were all that was needed to create the stunning new CD Mileage. Of course, we can't forget that the guitars, voice and concept for this recording belong to internationally acclaimed roots guitar wizard Toby Walker. Toby teamed up with Grammy award winning engineer Bob Stander to record and master this CD along with graphic design from David Derr. The trio have created a package that is a delightful sampling of the skills and diverse stylings mastered by Toby Walker.
The guitars of choice are Toby's beloved 1956 Martin D-18 and his gorgeous National Tri-Cone resonator guitar. The two instruments allowed Toby the opportunity to dive into a collection of blues, country, old-time, bluegrass and swing music. Fans of Toby Walker have come to enjoy his accomplished blending of styles and thoroughly entertaining performances.
As a young man, the Long Island native who now resides in New Jersey developed his skills by traveling through the South and literally learning his craft at the feet of the masters. The opportunity to spend time with the surviving blues artists from earlier generations gave Toby an education and insight into their artistry, which Toby now shares with others. In addition to recording and touring the U.S. and Europe, Toby has released six instructional guitar DVDs on Happy Traum's Homespun label. Toby also teaches at Jorma Kaukonen's Fur Peace Ranch Guitar Camp. Toby also has taught Middle School honor students as an instructor with Carnegie Hall's American Roots Program. He has received numerous honors, including being the 1st place recipient of the International Blues Challenge Award given out by the Blues Foundation in Memphis, Tennessee. In 2014, Toby was inducted into the New York Blues Hall of Fame.
Mileage offers a smooth ride with Toby taking us on an excursion through America's roots music. In Toby's hands, chestnuts like "Short'nin' Bread" and the Appalachian folk song "Shady Grove" offers new perspective. His re-working of the fiddle tune "Angeline the Baker" for guitar is a high point of the recording. Eleven of the seventeen songs are Toby originals or co-writes, all respectful of the timeless traditions they were inspired by.
Toby's sense of humor is in full bloom. "Shakin' Her Bacon," a double-entendre loaded song Toby co-wrote with Tom Griffith, pays homage to the great low down blues songs of yesteryear. Toby also keeps the listener smiling with a performance of songwriter Tim Wallace's "You Don't Really Care" and a delightful rendition of Fat's Waller's "Lulu's Back in Town". Toby also shares tunes from Muddy Waters, Buddy Guy, Lemon Jefferson and the Mississippi Sheiks with a few traditional pieces added in for good measure.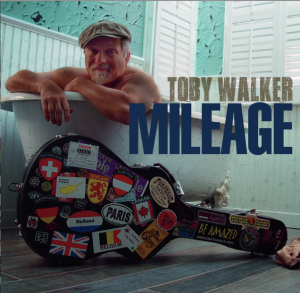 Toby's magic fingers were working overtime on "Daley's Reel/Stoney Lonesome" with no studio trickery required to produce this killer cut. The beefcake photo of Toby on the CD cover proves he has nothing up his sleeve. All the performances on this diverse collection show why Toby Walker is recognized as one of the country's finest practitioners of acoustic roots guitar. Mileage is a textbook example of the power of music in the right hands.
Click on the link below to hear Toby Walker with Ron Olesko on WFDU-FM's TRADITIONS. Originally broadcast on July 17, 2016