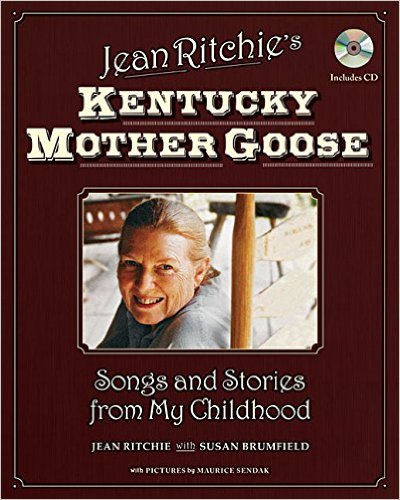 JEAN RITCHIE
Kentucky Mother Goose: Songs and Stories from My Childhood
Hal Leonard 9781495007880
---
Jean Ritchie was a phenomenal musician known as the Mother of Folk Music and for good reason. This wonderful book and CD is a collection of songs she learned growing up the youngest of fourteen children in Viper, Kentucky, and later, used in her teaching, for recordings and to sing with her own kids and grandkids.
The book is laid out well, with a section for each of several types of songs – "Songs at Home," "Counting Out and Other Rhymes," "Schoolyard Play and Other Rhymes," and "Just for Fun." Within each section is a wealth of songs, some you might recognize, such as "Hush Little Baby" and "London's Bridge," for a total of forty-seven tunes. Most of these were new to me, and perhaps to you, revealing a wonderful history of this rich tradition. Each song is accompanied by pleasing stories telling us about when and where she learned the tune, or sometimes, a family memory connected with the song.
Co-writer Susan Brumfield did a wonderful job of reporting, yet, keeping everything so authentic, you can hear Jean's voice. Each song is clearly notated. If you don't read music, or would rather hear the music, don't despair. There is a wonderful accompanying CD where you can hear Jean singing the songs. Most are done a capella although a few are from her LPs where she is accompanied by her beautiful dulcimer work. I love that you can hear Jean introduce some of the songs, making it more personal, like the two of you are sitting by a cozy fire, sipping tea.
The photos are great, too, some that are directly associated with the song and others, general photos of Jean throughout her career. We recently lost this dear artist so it's a great blessing to have this from her. It's highly recommended for anyone with an interest in traditional folk tunes for kids, especially participatory kinds of songs … but it's great for anyone who loves authentic folk music.
— Jamie Anderson