& WFDU-FM's TRADITIONS Playlist for April 3, 2016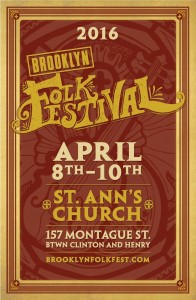 The 8th Annual Brooklyn Folk Festival kicks off this Friday, April 8 for what promises to be a busy weekend and thoroughly rewarding experience for folk music fans. Not to mention, it will be a highly entertaining weekend with diverse sounds and cultures celebrating a number of folk traditions.
Founded by folk musician/promoter Eli Smith in 2009, the Brooklyn Folk Festival is co-sponsored by Jalopy, a unique club that has become New York City area's epicenter for all things folk music. Since opening the doors in 2006, Jalopy has fostered a community of like-minded followers and practitioners of folk music. Reminiscent of the halcyon days of 1960s Greenwich Village during the folk revival, Brooklyn has seen a surge in interest in traditional music since Jalopy opened their doors, and the annual festival is a showcase for all the talent and passion for the traditional styles that blossom in Brooklyn.
Festival founder Eli Smith joined me on my radio show on Sunday to preview this year's festival and to perform a few tunes live in the studio.  In addition to creating and organizing the fest, Eli has become an influential figure in the Brooklyn folk scene.  A writer, researcher, promoter , podcaster and banjo player, Eli is also a member of the Down Hill Strugglers.  The Down Hill Strugglers are a Brooklyn based string band that has released recordings on Smithsonian Folkways Records and appeared on the soundtrack album for the film Inside Lewelyn Davis. The band grew together after hanging out with a mutual friend, Peter Stampfel of Holy Modal Rounders fame. Through Peter the became friends with New Lost City Ramblers founder John Cohen who performs with the group and will appear at this upcoming Brooklyn Folk Festival.
Although he is from a generation that came of age decades after the original Newport Folk Festival held reign, Eli was inspired by the structure of the historic festival when he started the Brooklyn Folk Festival. Bringing together the various cultures and purveyors of their respective musical traditions, Eli created a festival that showcases both the local talent as well as visiting artists that share in the spirit of what is happening in Brooklyn.  Brooklyn has always been home to various immigrant communities who put down roots in the borough and their traditions became part of a wider culture to be enjoyed by all. The festival reflects that character through a variety of concert performances, vocal and instrumental workshops, film screenings, and family friendly square and swing dances.
The festival will take place, primarily indoors, at Brooklyn's historic St. Ann's Church located at 157 Montague St. between Clinton and Henry in Brooklyn Heights. This gorgeous church provides a special backdrop for the performances, and the acoustics are superb. As usual, this year's festival will present a wide range of musical styles – old-time string-band music, folk, blues, song writers, jug band, bluegrass, flamenco, traditional Irish, Afro-Columbian, Ethiopian, Son Jarocho from Mexico, Balkan music, and much more! A second stage has been added to this years festival to allow more opportunities to present folk music.
Among the performers will be the legendary Michael Hurley who has developed a cult-like following since his early days on Folkways Records and his collaborations with the Holy Modal Rounders. A duo that also has roots in 1960s and will be appear this year is Ed Sanders and Steve Young of the Fugs, who will share their unique songs and poems.
The 2016 festival will also offer several workshops and performances that highlight the role folk music has played in social change and political activism. Mattie Jones, a veteran activist who has been involved with the Civil Rights Movement since the 1950s will teach freedom songs from the era. She has marched with Martin Luther King Jr and has worked to register voters, desegregate schools and public places, fought against apartheid in South Africa and will share the songs and lessons she has learned from these struggles. There will also be a group of puppeteers who will perform a piece that deals wth the issues surrounding climate change.
Many members of the Brooklyn folk community will take the stage, providing attendees an opportunity to witness the unique scene that is flourishing in Brooklyn. Jerron "Blind Boy" Paxton, who has been gaining national attention, will once again be part of the festivities. A crown jewel of the Brooklyn folk scene, Jerron is masterful blues and folk artist who guitar, fiddle, banjo, piano, and harmonica. Born in South Central Los Angeles and raised by grandparents from Louisiana, Jerron has become a living embodiment of the folk styles from generations long since passed. He can evoke the spirit of Blind Lemon Jefferson in one moment and then recall the stylings of Rev. Gary Davis the next. His performances are jaw-dropping, and I among those who are eagerly awaiting a new CD that he is working on.
Other local stalwarts include Spirit Family Reunion, who are have also appeared at the revived Newport Folk Fest and have appeared on NPR's Tiny Desk Concert series. Singer-songwriter Willy Gantrim will share his original ballads that capture the country and folk traditions and sound centuries old. Syrian-American singer Gaida, who was featured in Jonathan Demme's film "Rachel Getting Married" and has performed at the Kennedy Center and Carnegie Hall will perform traditional Arabic maqams and more with her band. Feral Foster, who holds court at Jalopy's weekly Wednesday "Roots n' Ruckus" review, will also appear. Local favorites The East River String Band, featuring noted record collector and historian John Heneghan and Eden Brower, will play from their vast repertoire of traditional American blues, County and pop music spanning the late 19th to early 20th Century.
Over 30 bands and artists will share a wealth of great music during the 3 day festival, all with passions that are deeply rooted in the traditions but shine with a contemporary flair.
In addition, the festival has created a unique tradition – the annual Banjo Toss. This now famous (or perhaps infamous) involves a competition where a banjo is tossed into the Gowanus Canal, and the individual who tosses it the furthest wins a brand new banjo.
The Brooklyn Folk Festival has sold out each of their previous events. It is anticipated that this year's event will again draw large crowds to this very unique and enjoyable festival that captures the spirit of Brooklyn. It is also encouraging to see young people once again embracing traditional music. The Brooklyn Festival carries on the tradition of the great festivals of the folk revival era – bringing together various cultures and their music while enabling new generations to add their own unique stamp to the traditions.
For more information about the event, visit www.brooklynfolkfest.com.
Click on the arrow below to listen to Eli Smith's appearance on WFDU-FM's TRADITIONS with Ron Olesko
Broadcast on April 3, 2016