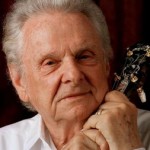 Update: Sadly, Ralph Stanley passed away on June 23 2016 at age 89.
I believe it's important to give tribute while the subject is still with us. Ralph Stanley turned 89 on February 25th and although he's lost a step or two he's still performing selected dates with his band The Clinch Mountain Boys. On this week's program we'll hear classics from Carter and Ralph Stanley along with some of the many musicians who have been a part of The Clinch Mountain Boys.
LISTEN:
To subscribe via iTunes, click . | To listen using Stitcher, click .
Artist / "Title" / CD / Label
Pete Seeger / "If I Had A Hammer" / Songs Of Hope And Struggle /
Smithsonian-Folkways
George Shuffler & James Alan Shelton / "Old Leather" / The
Legacy Continues/ Copper Creek
Stanley Brothers / "The Angels are Singing in Heaven Today" /
1948-1952 / Bear Family
Bill Monroe & the Blue Grass Boys / Sugar Coated Love" / The
Music of Bill Monroe / MCA
Charles River Valley Boys / "White Dove" / Bluegrass and Old
Timey Music / Prestige
Charles Sawtelle / Gonna Paint the Town" / Music from Rancho
DeVille / Acoustic Disc
Stanley Brothers / "Come All You Tenderhearted" / An Evening
Long Ago / Columbia-DMZ
Mike Seeger / "East Virginia Blues" / Third Annual Farewell
Reunion / Rounder
Kenny & Amanda Smith Band / "Our Last goodbye" / Always Never
Enough / Rebel
Lonesome Standard Time / "The Sweetest Love" / Mighty
Lonesome / Sugar Hill
George Shuffler & James Alan Shelton / "Katy Dear" / The
Legacy Continues / Copper Creek
Charlie Sizemore / "Red Wicked Wine" / Heartache Looking
for a Home / Rounder
Larry Sparks / "Loving You too Well" / Lonesome and then
Some / Rebel
Don Rigsby / "Home in the Mountains" / Dr's Orders / Rebel
Jack Cooke / "Sittin' On Top of the World" / Sittin' On
Top of the World / Pinecastle
Ralph Stanley / "Man of Constant Sorrow" / Man of Constant
Sorrow / Cracker Barrel
Bob Dylan / "The Lonesome River" / Tell Tale Signs / Columbia
Louie Setzer / "Rollin' On Rubber Wheels" / Jukebox
Bluegrass / Patunxent
Pete Seeger / "If I Had a Hammer (excerpt)" / Songs of Hope and Struggle /
Smithsonian Folkways