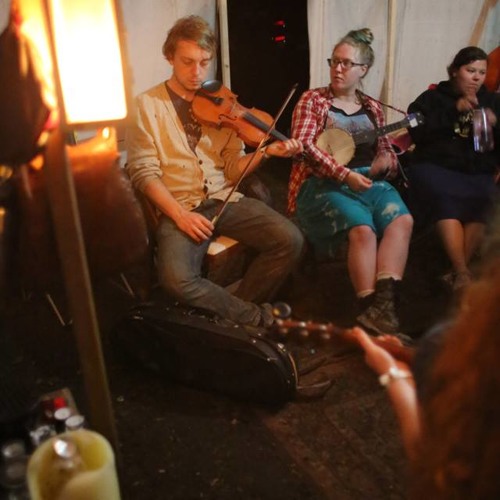 Midwestern fiddler John Daniel Lane takes a panoramic high-definition view of American fiddle music and clearly enjoys experimenting with different styles. There's a distinct and acknowledged John Hartford influence to his playing and repertoire, but he's as likely to be playing Irish, Scandinavian, or hyperlocal Missouri styles and tributes to particular players who've influenced him. His midwestern pieces frequently track multiple fiddle parts and use piano backing. A terrific introduction to his work is Walk Along John To Kansas, a piece of exuberant traditional twin fiddling with very contemporary feeling piano and guitar accompaniment.
Q & A
What is your goal in recording and sharing music?
I think it was originally to explore stringband sounds that I can hear, but would need a very specific and talented band to achieve. I play mostly with my wife and brother, and I try to be chill when I'm playing with them so that we have a good time. When we play dances or shows, I usually play fiddle, so this is a way for me to use my other instruments and play tyrant bandleader.
Come up with a descriptive, original genre name for your music.
Raw baroque midwest square-dance jams
Who do you view as a likely audience for your music?
My experience has been that almost everyone loves the fiddle in person. It's almost like a skeleton key to people's emotional defenses; the level to which it affects people has really astonished me at times. I've also seen a tremendous change in the level of interest in acoustic, folk, and roots music in the last ten years. People seem more open to listening to music that hasn't been endlessly polished in post-production than they were ten years ago. I have really been impressed by some recent albums (most notably Shane Cook's albums) that do a great job of presenting lush tracks that please the modern ear while representing the tradition wonderfully. The most common reference people mention to me when I play is the O Brother soundtrack, so I credit John Hartford for this second folk revival: a hell of a final gift from beyond the grave.
If trapped on a desert island with only three songs, which would they be?
Joanna Newsom's "Emily"
Esbjorn Svensson Trio's "Viaticum"
"Sarah Palin's Parasailing" by Loose Lips Sink Ships.
I can hum the fiddle tunes to myself.
Is there an instrument you do not currently play that you'd like to learn?
Wooden flute, russian chromatic button accordion, concertina, bluegrass banjo, and steel guitar, in no particular order.
Who is your musical hero(es), if any?
I appreciate the bowed instrument technique expanders like Billy Contreras, Rushad Eggleston, and Casey Drissen. They have broken so much new ground. I love the fiddlers I've met, like Jim Lansford, Dwight Lamb, Dale Morris, Justin Branum, Randy Elmore, Matt Wyatt, and Jr Marriott. I love the ones I didn't meet, like Lyman Enloe, Pete McMahan, Cyril Stinnett, Bob Walters, Casey Jones, and those boys. I love some sweet lead players in other trad styles, like Sylvain Barou and Padraig Rynne. And I love people who build worlds with internal consistency, like Joanna Newsom, Elliott Smith, John Hartford, Eric Earley, John Baizley, and Esbjorn Svensson.
You can hear more from John Daniel Lane on his Soundcloud page: Click Here