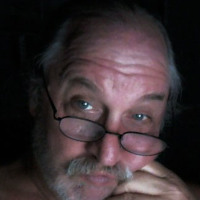 We didn't realize it when we picked this week's tune, but old-time instrumentalist John Walkenbach has been tangentially featured in Folkfinds previously; he is among the old-time mentors Mexican banjo picker Juan Cordero found in the Tucson Old-Time Music Circle. 'Opera Reel,' our favorite from his Soundcloud page, does present a first of its own for us, though, being the first time we've shared old-time in its most beguiling state: that of the jam. Here John is joined by Dave Firestine, Dan Levenson, Jerry Weinert, George Flink, Greg Smith, Jennifer Levenson, Pete Bowers and others. It's kinetic, energetic, fun, intimate, and quite addictive.
Q & A
What is your goal in recording and sharing music?
When I attend an old time jam, I usually record it using a small portable digital recorder. I choose the best tunes and post them on SoundCloud. No real goal, just an attempt to share the fun.
Come up with a descriptive, original genre name for your music.
It's basically "festival style" old time music. A bunch of people playing old tunes over and over.
Who do you view as a likely audience for your music?
People who play (or would like to play) old time music. And, of course, dancers at square dances and contra dances.
If trapped on a desert island with only three songs, which would they be?
I refuse to answer impossible questions.
Is there an instrument you do not currently play that you'd like to learn?
Fiddle. I've been trying for 6-7 years. Obviously, I'm not trying hard enough.
Who is your musical hero(es), if any?
David Bromberg. If you had asked me that 42 years ago, I would have given the same answer.
You can hear more from John Walkenbach on his Soundcloud page: Click Here