We rarely give more than one week to a song so young and as so closely identified with just one artist as "Linden Arden Stole the Highlights." Our post last week on this Van Morrison song struck a chord with our readers. One re-posted it with the comment: "I've always loved this album; I've never listened carefully to the words to this song though, and it is a beautiful, horrifying song…"
Although "Linden Arden Stole the Highlights" has very few other musical interpreters, I found another kind of adaptation in my research. Playwright, actor, and "nonprofessional theater critic" Colin Mitchell developed a stage production based on the song back in the 1990s. His play has been staged several times in San Francisco and Los Angeles, including a run as part of the 2014 Hollywood Fringe Festival.
We have an occasional series of posts exploring the adaptation of murder ballads into other art forms, visual art, dance, and theater; so given "Linden Arden's" widespread power and appeal, I thought it worthwhile to dig into this one. Mitchell, who runs the Los Angeles-area theater web site Bitter Lemons, shared a clip of the performance with us and agreed to chat for a while about the play and its origins.
The play alters some of the details of the story told in the original song, telling it from the perspective of a Scottish-American who moves from San Francisco to the fictional village of Arklow, Scotland (there is a real Arklow in Ireland). He tells his story from his home there, including about the time when some men from San Francisco tracked him down and knocked on his door.
This clip from the show is currently only available through this link. Be advised, the dialogue is NSFW at times.
MBMonday Interview with Colin Mitchell
(condensed and edited)
MBMonday: Tell us about how this project started. Was this a song that had been with you for a while? What led you to want to bring it to the stage?
Colin Mitchell:  I knew of Van Morrison's music as a teenager; the usual songs, "Moondance," "Tupelo Honey," etc. Then, in college, I heard this "Hour of Flower Power" thing on the radio, and it opened me up to Van Morrison music I hadn't heard before. The first album I bought was Astral Weeks. It completely blew me away. It was a completely life-changing experience listening to that album. Veedon Fleece is kind of an obscure album. Even Van Morrison fans don't know it. When I heard that album, and I heard that song… well, the only proper word for it is that I was "haunted" by it.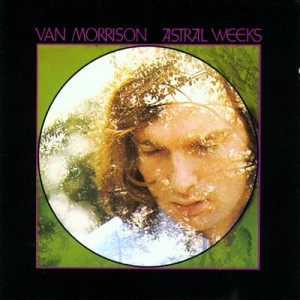 I jumped into the world of acting after college. I went to NY, and had a lot of early success. I was also getting into writing. I was listening to Astral Weeks a lot when I was there, and I wrote kind of a "surrealistic screenplay" of that album, but it didn't go anywhere. I went on with my acting career, moving first out to LA. Things didn't go that well, and I had to scamper up to San Francisco to live with my brother and get back on my feet. It was kind of a dark time.
I had been writing different things, and I was constantly haunted by that song. I heard about a Scottish arts and culture festival that was going on. The owner of a bar in the Tenderloin called The Edinburgh Castle decided he wanted the bar to be part of this festival, and I told them I would do a play for them. I was working two jobs at the time, a law firm and a blues club at night, pitching food in the back room. It was a hard time, but I was making theater.
First, I started working with a company, but they all kind of bagged on the project. When that happened, I only had a couple weeks before the show was to go up.  I started writing Linden Arden Stole the Highlights. I wrote it mostly at work at the blues club. It came out of me in a matter of days. The final product is probably 80% what that original script was.
I play soccer, guitar, I'm Scottish, and I was in San Francisco. I just came up with this character and this story. I performed it a couple of times, and then Alan Black let me run it at The Edinburgh Castle for months. As you can see in the script, people in the audience are invited to drink whiskey as part of the play. It was a good fit for the venue.  It's a pretty intense piece, but people are into it.