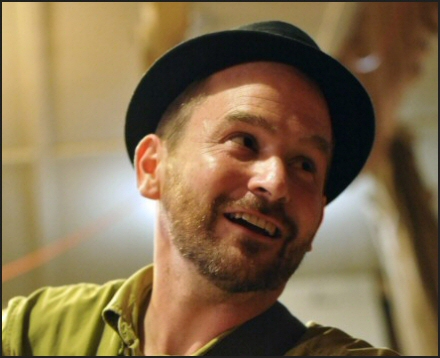 Brattleboro, VT's Brendan Taaffe takes a wide ranging approach to folk; he's got a Masters in Irish fiddle, has studied mbira playing and choral arrangement in Zimbabwe, and composes new songs in American traditions including shape note and old-time. His band The New Line focuses on incorporating his mbira playing into a progressive old-timey setting and repertoire, and the connection works beautifully. Listen to Train on the Island, marrying the ethereal mbira with a gourd banjo, for an experience at once comfortable and exoticn
Q & A
What is your goal in recording and sharing music?
I want to explore the ways that these old songs are still relevant, still telling us stories about ourselves and I want to explore how you can continually see them in a new light. In sharing the songs, I'm hoping to touch someplace real in somebody else, something that speaks to their heart or soul.
Come up with a descriptive, original genre name for your music.
Afro-lachian. Because it brings together African and Appalachian traditions.
Who do you view as a likely audience for your music?
Folks who like old-time music but are comfortable with pushing at the boundaries a bit. Folks who have always wondered what would happen if you crossed The Carter Family with Jean Bosco Mwenda. Folks who like the new crop of indie folk (Sam Amidon, etc.) and who are interested in other things along the same line.
If trapped on a desert island with only three songs, which would they be?
This is a cruel question.
Paul Brady singing "The Lakes of Pontchartrain"
The Dixie Hummingbirds "I'll be Satisfied"
Arvo Pärt's "Spiegel Im Spiegel"
Is there an instrument you do not currently play that you'd like to learn?
So many! Currently I play mbira, guitar, banjo, and fiddle. I've fooled around with the button accordion and penny whistle. There are at least as many more instruments that I'd love to learn (kora, nyckelharpa, and uillean pipes to name a few) and I'd love to explore different styles on the guitar, like jazz.
Who is your musical hero(es), if any?
So many.
Paul Brady. Caoimhin O Raghallaigh. Adam Hurt (who I get to play with). Almeda Riddle. Forward Kwenda. Toumani Diabate. Steve Cooney. Bill Evans. Pete Seeger.
We're just getting started here.
You can hear more from Brendan Taaffe on his webpage: Click Here