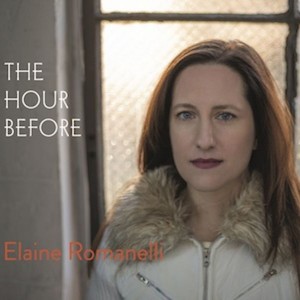 Elaine Romanelli    The Hour Before
self – www.elaineromanelli.com
May years ago, I interviewed Eric Andersen and asked what led to the emergence of singer-songwriters during the folk revival. His answer was that songs the spoke to the needs and issues of his generation had not yet been written. His answer stuck with me and helped me understand the role folk music plays and how it was indeed a living tradition.
One of the finest examples of how that tradition is being carried on can be found in the music of Elaine Romanelli. Elaine was born in Philadelphia, spent her formative years in Manhattan, Kansas, and lived for several years in San Francisco before moving to New York City. Her musical background is equally diverse, including forays into jazz and show tunes before being introduced to the singer-songwriters of the folk community. The music she is creating reflects the many emotions we face in the daily trials and tribulations of modern life.
The Hour Before was produced by Si Kahn, a fine storyteller who has also combined music with theater and sets Elaine's songs in appropriate arrangements that make each song personable and direct. Elaine sings about growing older in the delightful "25" and adjusting to whatever life throws at us in the ominously titled "The Year of Death." She explores relationships in several songs that make the issues reachable to the listener.
Elaine plays piano and a bit of guitar on the recording. The accompaniment is perfectly sparse, letting Elaine's words and beautiful voice stand out. This recording is fine example of what singer-songwriters in the folk world should be striving to produce.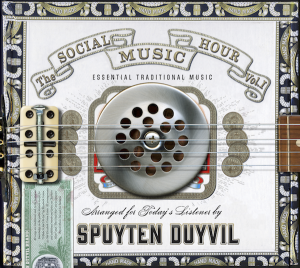 Spuyten Duyvil    The Social Music Hour, Vol. 1
self – www.spuytenduyvil.com
This Hudson Valley band began a few short years ago when a group of friends gathered on a front porch and started making music. Since then, they have ventured from that porch to visit venues and festivals all across the East Coast and beyond and have recorded three full-length CDs. Their latest CD brings the listener back to the kind of music that people have been making on their own front porches for generations, only this recording has that Spuyten Duyvil flair.
When I first heard that they were producing a CD of folk songs I was very excited. While they have written song impressive songs (mostly written by the groups founder and guiding light Mark Miller), their take on folk songs has always impressed me. The resulting CD surpassed my expectations, it is a gem that has received substantial airplay on folk radio in North America, becoming one of the five top CDs for 2015 on the International Folk DJ Charts.
I hope other bands and singer-songwriters will take note of Spuyten Duyvil's accomplishment and make their own explorations into the folk music song bag. The band turns these classic songs into sparkling fresh performances that speak to contemporary audiences. You can dance to these tunes, or simply sit back and enjoy a masterful band at work.
I've watched the band do mashups of folk songs in concert, and on the CD they give us an example by bringing the songs "Hot Time in the Old Town" and "Preaching On the Old Campground" together for an exciting workout. Their takes on "Barbara Allen" and "Lord Franklin" give new perspective to these well worn songs.
Sputen Duyvil is a memorable live band, and this latest recording solidifies their place on the contemporary music scene. I hope we will see a Social Music Hour Volume 2 in the future as our folk heritage is in good hands.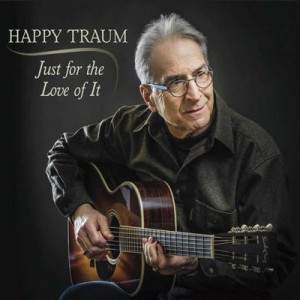 Happy Traum    Just for the Love of It
Lark' s Nest Music – www.happytraum.com
As I mentioned in my introduction to this article, this is not a "best of" list. The 10 CDs I've chosen represent my personal favorites that I enjoyed sharing on the radio. However, if someone told me that my house was on fire and I could only save 1 CD (after my wife, kids and pets of course!), I would grab Happy Traum's Just for the Love of It. I would never get bored listening to the 14 songs on the CD as they thoroughly entertain me, lift my spirits and remind me of why I love folk music so much.
His first studio recording in a decade, this veteran of the folk music scene (Happy grew up around the Greenwich Village folk scene of the '50s and '60s and has been an integral performer ever since), Happy shares a perfect blend of traditional and modern folk songs that have become part of the tradition and in Happy's hands, they combine for a welcome collection that reflects the accomplishments of the folk revival.
Happy's creative fingerpicking is the hallmark of this CD which also features contributions from friends like David Amram, Marco Benevento, Larry Campbell, Justin Guip, Byron Isaacs, Jerry Marotta, Abby Newton, John Sebastian, Martin Simpson, Adam Traum and Teresa Williams. Happy's plan was to play and record the songs "live" in order to capture the interplay that occurs between musical friends. It works.
I was particularly moved by the recording of "The Water Is Wide" and a delightful rendition of "Deep Blue Sea" with David Amram on whistle. Happy gives Bob Dylan's "Down in the Flood" a lovely acoustic treatment, and Pete Seeger's "Sailing Down my Golden River" is a gorgeous recording that keeps Pete's memory and message alive. I can attest to the fact that this CD that remains fresh after repeated plays as it has been in nearly constant rotation in my CD deck since it arrived.

HONORABLE MENTIONS:
Andy Cohen   Road Be Kind
Earwig Music – www.earwigmusic.com , www.andycohenmusic.com
Archie Fisher   A Silent Song
Red House Records – www.redhouserecords.com
Freebo   If Not Now When
Poppabo Music – www.freebomusic.com
Kaia Kater   Sorrow Bound
self – www.kaiakater.com
Lori Lieberman   Ready for the Storm
Drive On Records – www.driveonrecords.com, www.lorilieberman.com
Dan Schatz   The Promise of the Sowing
Folk-Legacy – www.folk-legacy.com , www.danschatz.com
various artists   Joy of Living: A Tribute to Ewan MaCColl
Cooking Vinyl & Compass Records – www.compassrecords.com
All in all, 2015 was a wonderful year for folk music aficionados. The diversity of styles that falls under the umbrella of "folk music" was well represented and the fact that new generations are emerging gives us comfort that these songs are in good hands.