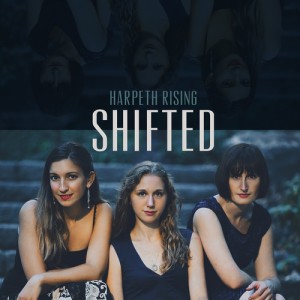 Harpeth Rising    Shifted
self – www.harpethrising.com
Watching this group mature over the past few years has been a real treat. While it sounds cliche to say they keep getting better with each recording they make, it really is true – and all six of their CDs (5 studio albums plus a live recording) have been thoroughly enjoyable as well as ground breaking.
Jordana Greenberg, Rebecca Reed-Lund and Maria Di Meglio are the three artists who make up Harpeth Rising. The women met at the Indiana University Jacobs School of Music where they were earning Performance Degrees. Their shared love of diverse music styles, and a summer spent jamming at folk bluegrass festivals, led to the formation of the group. They fuse folk, bluegrass and jazz along with music from their Eastern European ancestry and the roots music of their adopted home in the mid-southern United States. They have earned great attention and have played at numerous venues and festivals across the continent and in Europe, including the prestigious Kerrville Folk Festival in the US and the Cambridge Folk Folk Festival in the UK.
Their latest recording, Shifted, continues their genre bending exploration. Harpeth Rising allows for elements of improvisation in their original music that connect with a sense of playfulness that is often lacking in studio recordings. The interaction of the three musicians has developed over the years to create a flowing recording where I am continuing to find intriguing new facets upon each listen. This is what classical music can do to a listener, and to hear this in a band that is exploring roots music along with other styles is a welcome treat.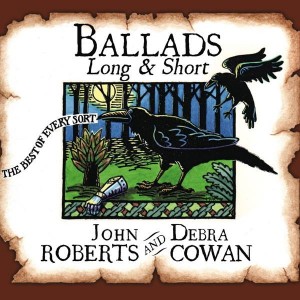 John Roberts & Debra Cowan  Ballads Long and Short
Golden Hind Music – www.goldenhindmusic.com, www.debracowan.com
The seed for this recording was planted back in 2009 when Debra Cowan and John Roberts teamed up for a series of concerts in Pennsylvania, Ohio, Michigan and Illinois. The two artists had been booked separately at the Fox Valley Folklore Society's annual festival and to save travel expenses they decided to put together a short tour en route. It was successful and soon they began more concerts in tandem, including a tour of the UK. I booked them for a lovely concert last winter at the Hurdy Gurdy Folk Music Club. After deciding they would continue to do more concerts together, they went into the studio to record some of their favorite folk songs which they note range from "the deadly serious to the just plain silly." The CD is appropriately named "Ballads Long & Short" with a subtitle "The Best of Every Sort."
I've often said that John Roberts is a national treasure. Known for his work with Tony Barrand (whom he met at Cornell University in 1968 where they were graduate students in psychology and shared an interest in folk music), John has been sharing treasures of the English folk tradition for decades. John's powerful voice has shared hundreds of traditional English folk songs, sea shanties, drinking songs and more. He is also one of the finest Anglo and English concertina players on the planet as well as being skilled on the banjo and guitar.
Debra is also a treasure. Her stunning alto voice is one of the finest in folk music. Debra is a rare commodity in the contemporary folk scene, she does not write songs but is a gifted interpreter of song. She began exploring English folk music as a teenager. She has recorded several albums which show her mastery of folk songs old and new and has become a staple on the folk circuit on both sides of the Atlantic.
John and Debra have recorded a wonderful collection of 14 songs – several Child ballads, a couple of contemporary Australian songs, a Sid Kipper gem and more. The CD is a small sample of the wealth of music these two artists bring out in their concerts
I wrote more about this CD in an August entry in the folk music –
"The CD begins with one of my favorite songs, "Drive Dull Care Away." I first heard Joe Hickerson sing this song many years ago and was inspired by the sentiment. To my ears, the song has always captured the spirit of the folk music community – while we may face troubles in our world, why let it prevent us from enjoying the company of our friends? The message of "make the best" of life comes through in John and Debra's performance, and it is the perfect start for the journey the rest of the songs on the CD take us."
To read my entire review, please click here.