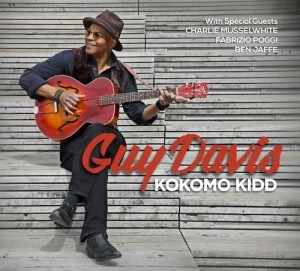 Guy Davis    Kokomo Kid
self – www.guydavis.com
Considering that I've loved just about everything Guy Davis has recorded in his career, I have come to the conclusion that Kokomo Kid may be his finest CD to date.  For the first time, Guy produced his own recording which might be the reason this CD shows gives Guy the chance to sing personal songs that reflect his diverse career and powerful tools as a singer, songwriter, interpreter and performer.
The title cut is a story about a mythological country bootlegger that kept Washington in the cups during prohibition. Guy embellishes the legend and delivers a performance with a touch of rap to tell the story of a Washington insider and corrupt politics that addresses some current dealings in our nation's capitol with lines like "I can hack your email, find out if you like male or female."
Guy's reputation as an ambassador of the blues is cleary cemented with some outstanding cuts on this new CD.  He is joined by Charlie Musselwhite for a great take on the classic "Little Red Rooster" and a homage to blues legend Sonny Terry with an original song "Like Sonny Did."
While many of the songs are originals, there are some covers of a couple of 1960 folk-rock standards that really stand out. One is Bob Dylan's "Lay Lady Lay" with Guys powerful voice really delivering the song unlike any previous recording has done. The other is what seemed to be an odd choice, Donovan's "Wear Your Love Like Heaven", but Guy breathes new life into what was once a bit of 60s psychedelia.
Perhaps the most moving song in the collection is "Wish I Hadn't Stayed Away So Long", a song about the passing of Guy's mother, actress Ruby Dee.  The song title came from something that Pete Seeger on the passing of his wife Toshi. Guy was very close to Pete, and you can feel Seeger's spirit throughout the CD.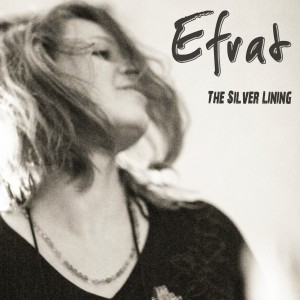 Efrat    The Silver Lining
self – www.efratmusic.com
This CD caught me by surprise. I first met Efrat when she played violin for the Americana band Spuyten Duyvil. I knew her background was initially in jazz, but I did not realize that she also had background in bluegrass, klezmer, classical and show tunes as well. Her introduction to the folk community through Spuyten Duyvil has led to this recording, and it showcases Efrat for her talent not only on violin, but also as a strong vocalist as well as an accomplished songwriter. Her arrangements on this CD present a diverse selection of songs that thoroughly entertains from cut to cut.
It is evident was having fun in the studio, and it carries across to the listening experience. From the bluesy "Love Kicked the Devil" to the Carter Family standard "Keep on the Sunny Side", Efrat brings out the charm in these songs, and whether they are originals or covers – she makes them her own. The title cut comes from her philosophy of finding that "silver lining" while going through the trials and tribulations of every day life and also having a community to help us get through.
I wrote more about Efrat and The Silver Lining back in November in the pages of this Folk Music Notebook, to read more and to hear my interview with Efrat, please click here.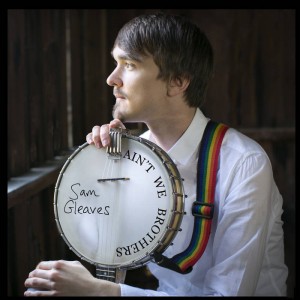 Sam Gleaves    Ain't We Brothers
Community Music – www.samgleaves.com
It is a common misconception that "young" people are not picking up the old folk traditions. Readers of Sing Out! and this Notebook know that is far from the truth. One of finest examples that the traditions are in good hands is 24 year old Sam Gleaves. Born and raised in Wythe County in southwest Virginia, a young Sam Gleaves walked into a barbershop one day to find a jam session of Appalachian music in progress. The barber, Jim Loyd, soon taught Sam a number of stringband instruments including banjo, guitar, fiddle and autoharp. Noted ballad singer Shelia Kay Adams (who also influenced Elizabeth Laprelle of Anna & Elizabeth) also became a mentor and help Sam find his voice and instill a passion for the old mountain love songs. Sam eventually earned a degree in Folklore from Berea College in Kentucky. Sam recorded a couple of solo albums of traditional material and also appeared on a few compilation albums, including the 2015 tribute to Shirley Collins Shirley Inspired.
As folk music is truly a living tradition, Sam has been writing songs that come out of the roots music he loves, and his songs would easily fit into any collection of music gathered from the regions. His CD Ain't We Brothers consists of primarily of original songs and they are powerful. The CD was produced by Cathy Fink and includes appearances by Cathy with Janis Ian, Tim O'Brien, Laurie Lewis, Marcy Marxer, Missy Raines, Donavan Cain, Tyler Hughes, Pat McInerny, Russ Pahl, and Tim Crouch.
The title song is based on the story of West Virginia coal miner Sam Williams. In 2010, Williams filed a discrimination suit against the coal mining company where he used to be employed. Williams was discriminated against when it was found out that he was gay and living with a male partner. Sam Gleaves, who himself is openly gay, wrote this song from William's perspective about the harassment based on Williams testimony in the lawsuit. The compelling song offers perspective and asks a simple question – ain't we brothers? In 2015, this song is an important addition to the folk canon and a reminder to all that all human beings deserve to live honestly and peacefully. Another moving song is Two Virginia Boys where Sam adds verses to the traditional song "East Virginia Blues" to declare the love two southern men feel for each other. He also speaks out against HB279, the controversial Religious Freedom Act that was passed by the Kentucky state legislature in 2013 which weakens anti-discrimination policies under the claim that it is protecting religious freedom.
Sam also tells of the other danger of working in a coal mine through a song called Working Shoes, based on stories from his grandmother who saw her father killed in a coal mine and two brothers injured as well. Inspired by a scene from a documentary on Joan Baez where she talked about Dr. Martin Luther King, Sam wrote "Angel in the Ashes" which he sings with Janis Ian on the recording.
The recording also features a lovely version of the Carter Family classic "My Dixie Darling" and ends with a lovely piece called "If I Could Write a Song" which explains the writer proving that music can make sense of conflicted feelings. This is a powerful recording from a folksinger/singer-songwriter who appears destined to be a powerful voice in the folk community.