Ron's Thoughts on the 2015 Northeast Regional Folk Alliance Conference
and WFDU-FM's TRADITIONS Playlists for November 29 & December 13, 2015
M

y radio programs for November 29 and December 10 were filled with exciting new music that I picked up at the 21st annual

Northeast Regional Folk Alliance Conference (NERFA)

held November 14 through November 17, 2015 in Kerhonksen, New York.
Each year, I joke that I leave NERFA with enough music to fill my show for the next 12 months, and if I tried I probably could do just that! I think I set a personal best this year – returning home with over 70 CDs plus a couple of download cards, a thumb drive containing a catalog of music from one outstanding artist, and a number of files that were forwarded to me by artists post-conference. I also returned with my spirits uplifted as once again I witnessed the creativity and diversity our folk community possesses. We carry on a powerful tradition!
For this of you who are unfamiliar with what goes on at a folk music conference, let me share my own experiences and hopefully give you an idea of what NERFA is all about.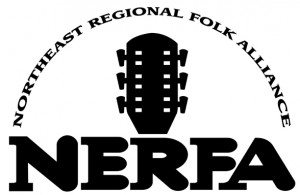 NERFA is one of two "can't miss events" on my annual calendar (the other being the Old Songs Festival). NERFA is an annual 4 day conference organized by the Northeast regional affiliate of Folk Alliance International. Held each November, the conference provides an opportunity for artists to showcase for venue operators, festival organizers, agents and the media. In addition to serving as a trade show and showcase opportunity, the conference allows attendees to network with their peers and to share best practices that will help perpetuate "folk music" in all its various forms. Artist who attend run the gamut from the unknown singer-songwriter to icons in the folk music community. The majority of attendees are from states in the Northeast as well as eastern Canada and the provinces.  Often you will find artists from other parts of the country who attend and this is due to the reputation that NERFA has built over the years as being a productive and creative music conference. Having a highly coveted Formal Showcase slot goes on the resume of most artists who are selected. This year saw over 800 people fill the Hudson Valley Resort in Kerhonksen, New York for NERFA and the comments I heard echoed my own thoughts – it may have been the most productive and enjoyable gathering to date.
Before I get go too far in this report, I would like to give credit and thanks to Dianne Tankle and her crew, NERFA president Cheryl Prashker and the board of directors for once again organizing an amazing and productive weekend. Dianne is the driving force and visionary creator of NERFA, assisted by her husband Dr. Bob Cohen. They have spearheaded this conference since the inception and are responsible for its incredible growth. They have put together a team that works hard in the months preceding NERFA to insure a successful weekend. I really think they should get together and run for public office, I am sure they could organize our government to run smoothly and I know they would fix all the problems that come up – it they can handle a crowd of independent folkies, getting the U.S. Senate to work together should be a piece of cake! NERFA is a huge project, and they make everyone feel welcome and meet any challenge that comes up.
As the brochures proclaim, NERFA and Folk Alliance are all about the "business" of folk music, but that doesn't stop it from being a great source of fun. From the time I arrived on Thursday afternoon until the time I left Sunday evening, I had a constant smile on my face that matched a soaring level of exhilaration! It is hard not to be elated when you are surrounded by such talented musicians. I am always amazed that each year uncovers new talent with songs and stories that I am anxious to share on the radio and at the Hurdy Gurdy. In addition, I catch up with old friends who have new songs just waiting to be heard! The playlists that follow this article will reflect SOME of the music that I found (or music that found me) during the weekend. Before you check out those playlists, let me tell you a bit about the weekend I experienced at NERFA.
I arrived in Kerhonksen on Thursday afternoon to be greeted by a long line of attendees at the check-in line. While the long line was due to some computer issue with the hotel, I marveled at how many people had already arrived. For many years, NERFA was a three day Friday through Sunday conference. A handful of early arrivals would come on Thursday to help stuff bags and such, and one year early-bird folk DJ's Rich Warren and the late Suzi Wollenberg came up with an idea to have a Thursday evening "Folk DJ Showcase" to help entertain the advance arrivals and for the early arriving folk DJ's to share their "new" discoveries. The event was a hit, and within a few short years this informal showcase became one of the eagerly anticipated events of the weekend.
NERFA is now a four day conference, with additional workshops and guerrilla showcases rounding out Thursday. The Folk DJ showcase, renamed the Suzi Wollenberg Folk DJ Showcase after Suzi's untimely passing, has become the de-facto "Emerging Artist" showcase for NERFA. Radio hosts like myself choose artists that have not yet become household names – artists who have caught our ear but have not yet had the opportunity to be heard in any of the formal showcases nor have become well known on the folk circuit. This showcase maintains a relaxed atmosphere, a perfect way to start the conference. It is always exciting to hear who my peers in the world of radio have brought to the table and the quality of music has proven to be exceptional as well as diverse.