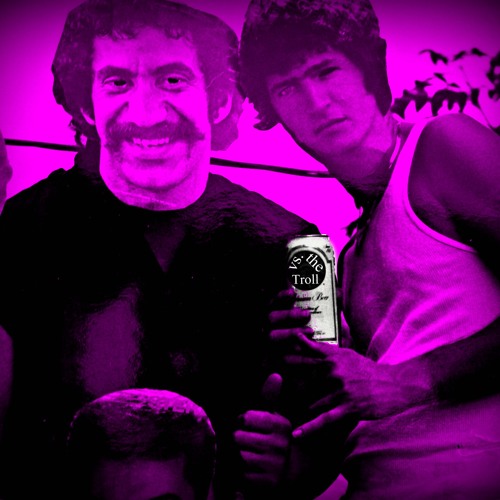 One of the things that's fascinated us about the folk community on Soundcloud is the appeal traditional styles hold for many experimental musicians. Jason and Leo of Toledo indie band Vs the Troll are all over the stylistic map, but a song closest to their heart is Peanut Butter, written as a lullaby for Jason's son and brought to life here as straight up doo wop. Close your eyes and imagine being rocked to sleep to these dulcet tones (though the spot-on falsetto at the end would probably make us giggle too much to go to sleep). This is 1:02 of pure charm.
Q & A
What is your goal in recording and sharing music?
I really have never thought of what my/our goal would be at recording and sharing music! We enjoy being able to play music together and record our music. Recording and working on songs is what I love the most about music. Its so much fun.
Come up with a descriptive, original genre name for your music.
Basement Living Room Attic Music. I record in my old basement and Leo just moved his equipment into his living room. He used to have his set up in the attic.
Who do you view as a likely audience for your music?
Everyone!
If trapped on a desert island with only three songs, which would they be?
I don't need any, I have thousands in my head already!
Can I bring a guitar instead!?
Is there an instrument you do not currently play that you'd like to learn?
Piano. My son is learning and I'm learning along with him.
Who is your musical hero(es), if any?
Our late friend Bill "Mongo" Rahe. He passed away last September after a short fight against cancer. Bill was a genius musician, who taught both of us how to play the guitar, song write and record music.
You can hear more from Vs. The Troll on Soundcloud: Click Here