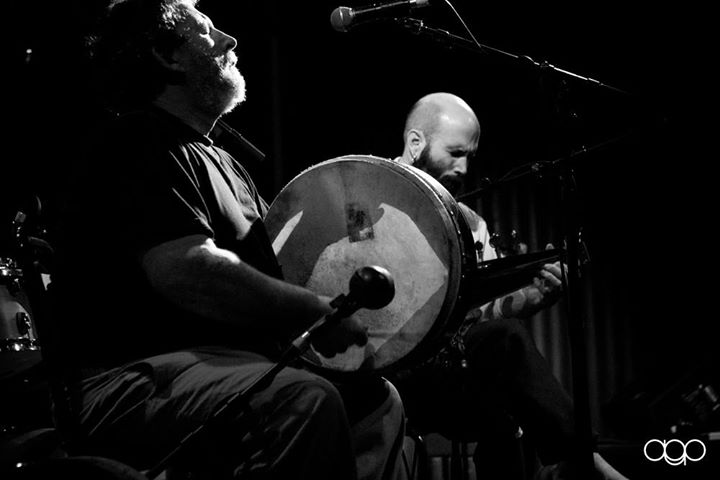 With a Sanskrit name meaning 'the space between' while also recalling one of Ireland's most ancient spots, it's no surprise that AnTara seeks to apply multiple layers of significance to their music. Sarod player Mattu Noone and percussionist Tommy Hayes form the core, creating a contemporary Irish music by using of Indian classical improvisation in concert with Irish melodies. Their just-released first album 'The Space Between' is an excellent, intriguing listen; for a taster try their version of fiddler Junior Crehan's 'I Have A House of My Own With A Chimney Built On Top Of It,' which also features harp and lilting from Niamh O'Brien.
Q & A
What is your goal in recording and sharing music?
Well, recording music is a way of sharing your inner sound world to others. I use soundcloud as a way of putting out material that is more left of centre and doesn't necessarily fit into a large body of work. I also like that there are individuals out there who can directly respond to you. In terms of an album, it becomes more of creating a aesthetic statement a tangible connection with a listener. I also like the idea of people engaging with the album in their homes, cars, laptops etc
Come up with a descriptive, original genre name for your music.
Gritty and graceful Post-traditional Irish music
Who do you view as a likely audience for your music?
Traditional music afficiandos, nu-folksters, hipsters, grungers, ambient electro heads, world music buffs and the spiritually inclined
If trapped on a desert island with only three songs, which would they be?
"They would be ragas not songs. Ragas are the melodic basis of Indian Classical music and they can go on for hours and hours so it would be the most economical way to have music!
My Three favourite ragas
Raga Bhairavi
Raga Ahir Bhairav
Raga Chandranandan"
Is there an instrument you do not currently play that you'd like to learn?
The fiddle, although I do play it currently, just badly.
Who is your musical hero(es), if any?
Ustad Ali Akbar Khan (the greatest sarode player ever)
Jimi Hendrix (the ultimate space man)
Sean O' Ríada (Irish composer and visionary)
Bhimsen Joshi (Powerful Indian vocalist)
John Cage (zen and the art of silence)
Martin Hayes (the lonesome touch)
Steve Cooney (another Aussie digger)
You can hear more from AnTara on their webpage: Click Here