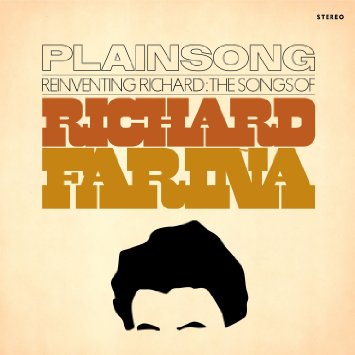 PLAINSONG
Reinventing Richard:
The Songs of Richard Fariña
Omnivore
---
There is a clear line between recitation and interpretation. Interpretation, hopefully, takes a song someplace it hasn't been before, someplace new. Iain Matthews and Andy Roberts have reconvened Plainsong for this project, with Mark Griffiths adding his parts via Internet. Iain and Andy are far from strangers to the Richard Fariña oeuvre. Iain memorably recorded several Fariña songs on If You Saw Thro' My Eyes (1971) and Tigers Will Survive (1972). Even earlier he'd sung "Reno Nevada" with Fairport Convention in their early days. Andy had been a fan of the Richard & Mimi Fariña albums from the first time he heard them. He says he decided to learn dulcimer after hearing Richard's powerful playing.
Clearly this is a labor of love for all involved. Iain notes that in part the album is timed to commemorate the 50th anniversary of Richard's death in a motorcycle accident after leaving the release party for his novel Been Down So Long It Looks Like Up To Me.
As the title suggests the performances and arrangements are all very different from the originals, freshening them without sacrificing the songs' cores. Andy notes that early in the discussions of how to proceed he insisted there be no dulcimer at all on the album despite his love of the instrument. Thus Iain and Andy forced themselves to create new approaches.
There were only two albums by the Fariñas before losing Richard: Celebrations for a Grey Day and Reflections in a Crystal Wind. Memories was cobbled together from some leftovers, a couple covers by Mimi's sister Joan Baez and some live 1965 Newport Folk Festival performances. Together they are a small but brilliant body of work that continues to resonate and inspire. Iain describes Plainsong's remaining as "how his songs might have sounded if written and first recorded in a 21st century electro/acoustic setting." For ones like me who have loved the Farina albums since they first appeared the new versions are bracing, fun and loving–and thoroughly a delight. For those who don't know the Richard & Mimi albums Reinventing Richard will be a superb introduction hopefully pointing the way to the originals. I recommend Plainsong's album without reservation.
Recommended reading: David Hajdu's Positively 4th Street: The Lives and Times of Joan Baez, Mimi Baez Farina (Picador). Beside the light shed on the four people at the center of the book, it is one of the best books about that glorious long ago period of Greenwich Village in the 1960s. Readily available quite reasonably at Amazon.
— Michael Tearson