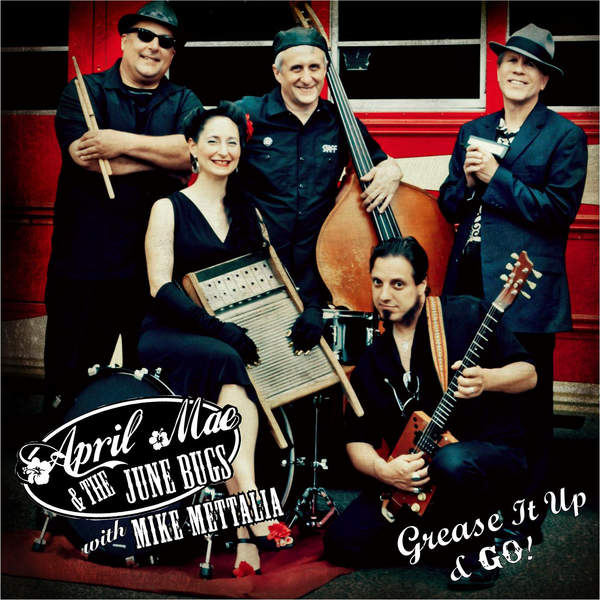 APRIL MAE & THE JUNE BUGS with MIKE METTALIA
Grease It Up And Go!
April Mae and the June Bugs
www.aprilmaeandthejunebugs.com

---
Pure fun end-to-end, April Mae & The June Bugs' Grease It Up & Go! is a blast! They play bluesy, rockabilly-informed music. They recorded the entire album, all 14 tracks, live in one day with some few overdubs, too. Truly a testament to the band's preparedness and their finely tuned chops.
The outfit includes April Mae singing, scratching the washboard and humming the kazoo; Dave "Crawfish" Ficca on Fender and cigar box guitars and Christopher Horner and Tim Smith on bass and drums. Mike Mettalia joins the parts with harmonica and voice.
April Mae wrote four of the songs with Catfish. Mike wrote three others. The rest are covers of vintage songs the band likes, among these "A Good Man is Hard to Find," "Drown in My Own Tears," "Spoonful" and the title song.
April Mae & The June Bugs have long been a terrific live act, and performing the entire album nearly entirely live underscores that. Mike Mettalia adds depth and dimension as his harmonica adds a second solo instrument to the guitars while his singing as a second lead voice complements and plays off. April Mae.
To tell the truth, Grease It Up & Go! isn't going to radically impact your world. It isn't designed for that. However, it will give you a swell rocking and bluesy time – and that is nothing to sneeze at! Sometimes you just need music as a refuge, and to that end the album works quite well.
In the end it is this simple: For a good time, crank up some April Mae & The June Bugs with Mike Mettalia. You won't be disappointed.
— Michael Tearson