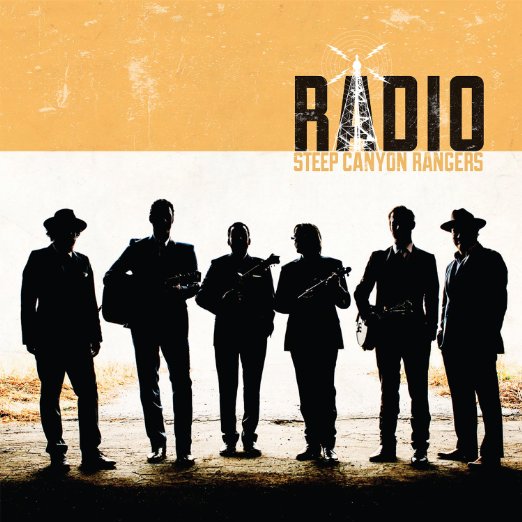 STEEP CANYON RANGERS
RADIO
Rounder 11661
---
Radio is Chapel Hill, North Carolina's Steep Canyon Rangers' ninth studio album and fourth release for Rounder Records – including a couple with actor/comedian and banjo playing whiz Steve Martin in tow. Composed of guitarist Woody Platt, banjoist Graham Sharp, bassist Charles R. Humphrey III, mandolinist Mike Guggino, fiddler Nicky Sanders and cajon drummer Mike Ashworth, the Rangers have, over the past decade, developed an ear-catching mix of both traditional and progressive bluegrass, country, Americana, blues and folk that's continually fortified by their instrumental chemistry and the impressive songwriting talents of Humphrey, Sharp and Guggino.
The dozen originals here are often stunning. Favorites include the infectiously salutary title tune, an eminently danceable, lively instrumental called "Looking Glass," the dolefully philosophical rumination "Down That Road Again," a tragically eloquent "Wasted" and a carefree, freewheeling wave to a "Long Summer."
The Rangers are one of the hardest working bluegrass bands around, playing between 125 and 150 dates a year and are currently on tour. If you want to be drenched in the lonesome sounds and homespun styles of first generation bluegrass pioneers like Bill Monroe and Flatt and Scruggs with a myriad of progressive elements around the edges, don't miss 'em if they come your way. I've got my tickets!
— Gary von Tersch