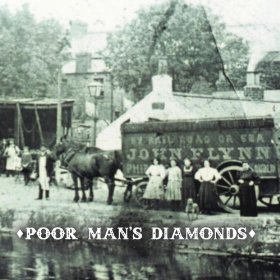 John Flynn
Poor Man's Diamonds
www.johnflynn.net 009
---
The prolific John Flynn checks in with a new release that is a truly beautiful album. His bright spirits and the excellence of his song craft buoy the project. John's good friend Harvey (John Harvey, Philadelphia-based DJ and announcer) produced and as "house band" plays a boatload of instruments: guitars, bass, drums, mandolin, Dobro, sitar, banjo, synthesizer, harmonica and accordion. John's warm voice is always a welcome companion.
As mentioned Flynn's song craft is excellent as always. His Woody Guthrie tribute "What Woody Done" is eloquent and right on target. "Lovely Enough," featuring Steve Fishell's pedal steel guitar, is a lovely aching song and a fine set opener. "Same Old Highway Song" delves the loneliness of life on the road away from loved ones. "Bury Me with My Guitar" is a funny one, and David Amram's Lakota courting flute informs the contemplative "Kintsugi." "Songer-Singwriter" (sic) is a self-assessment and an acceptance.
Throughout, John's songs cast light and wisdom with sturdy melodies that stick with you and propel his art. He always amazes me with how prolific a writer he is, constantly expanding his songbook with new exciting material. He just goes about doing what he does with class and grace. Harvey, as producer and multi-instrumentalist sideman, is a superb collaborator, and I expect to hear more from them together in the future.
John says he spotted the cover photo on the wall of a bar in Ireland. It's a perfect invitation to check out Poor Man's Diamonds.
— Michael Tearson