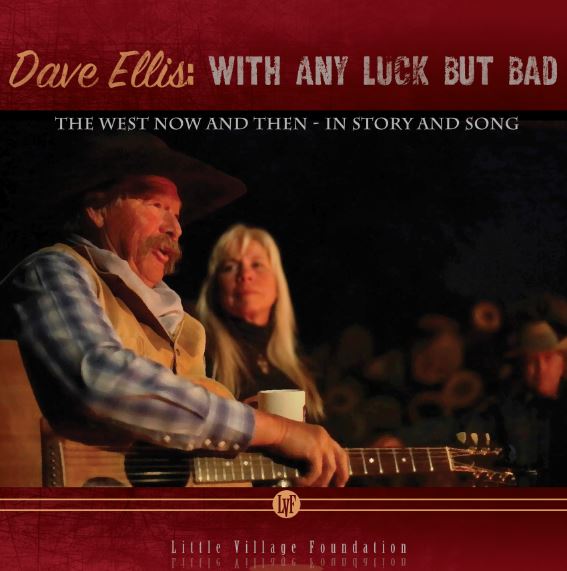 DAVE ELLIS
With Any Luck But Bad
Little Village Foundation
www.littlevillagefoundation.com

---
There's a quiet authenticity to California-horse-country-bred Ellis' relaxed, no-frills delivery of songs of the cowboy life. Almost anyone – a kid, a Hollywood actor – can sing a cowboy song. But like Ian Tyson in western Canada, Ellis brings decades of firsthand experience to the lyrics.
He's backed solely by his acoustic guitar and singer Jody Grimm, who takes lead on "The Vaquero Song." While they are certainly adequate vocalists, it's easier to imagine them singing in a rancher's living room than in an urban folk club.
The composers for the songs here aren't identified on the disc. Michael Burton's composition "Night Herder's Lament" has already been recorded by Chris LeDoux, Garth Brooks, Jerry Jeff Walker, Tyson, the Nields, and plenty of others, but it's still welcome on this release. Ellis fondly talks of his mother singing "The Redheaded Stranger" when he was young – years before Willie Nelson put it on vinyl. That song's ending is among the album's moments of humor. Like Tyson, Ellis pays tribute to western fiction writer Will James (1892-1942), and Ellis regales us with legends of James' life.
Of course, few real cowboys limit themselves to songs that originated in their world. "That Lucky Old Sun" was a #1 pop hit for Frankie Laine in 1949 and, earlier this year, the ballad Bob Dylan sagely chose to close his Sinatra-oriented Shadows in the Night. Okay, it isn't necessarily a cowboy song, but the work-worlds that its lyrics fit include the open range.
By the way, Santa Barbara County, California-based Little Village Foundation says on its web site that its goal is to support artists from nontraditional backgrounds, presenting what America really sounds like.
— Bruce Sylvester