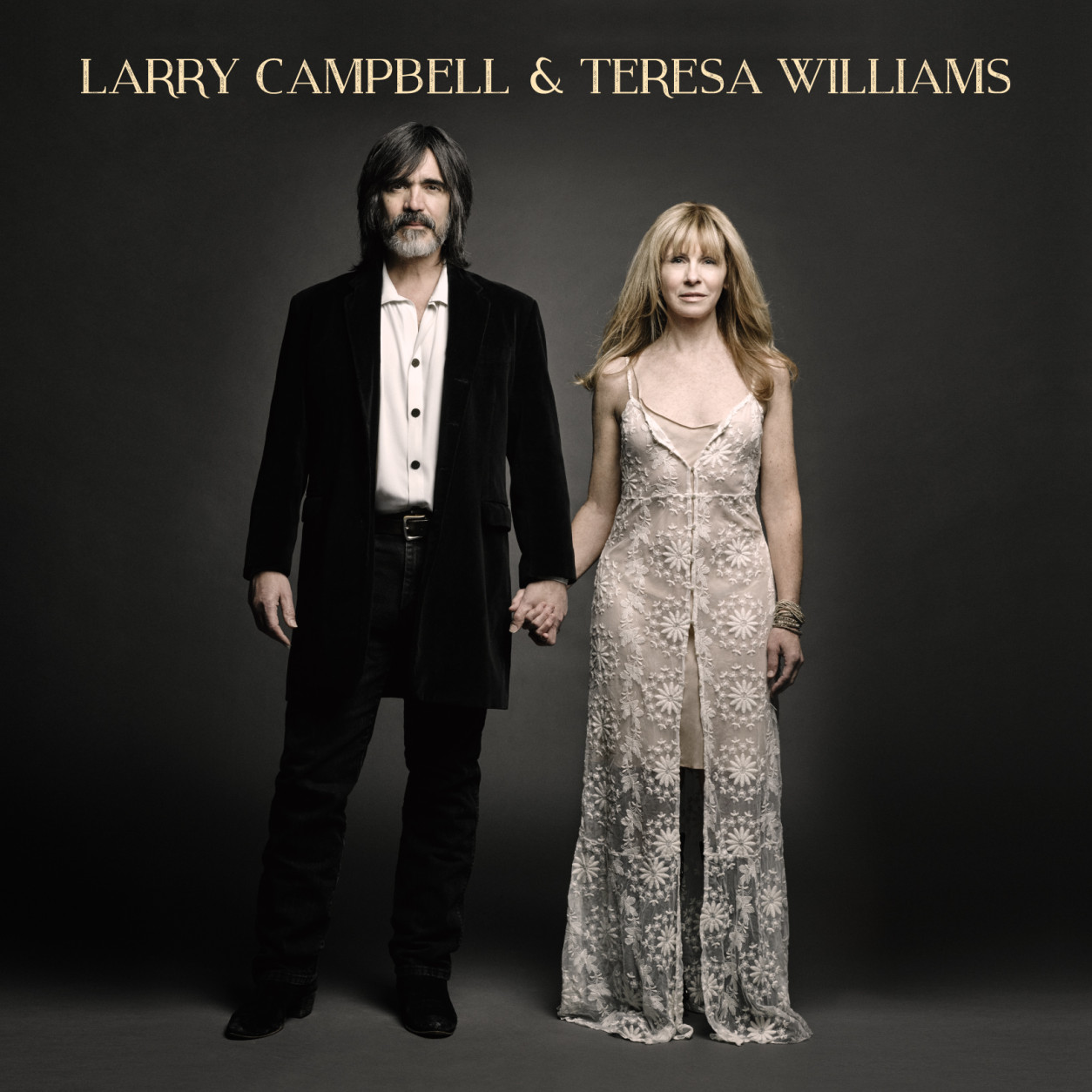 LARRY CAMPBELL and TERESA WILLIAMS
Larry Campbell and Teresa Williams
Red House 285
---
Larry Campbell has been brightening albums and tours with his brilliance on guitar and mandolin and on records production for ages. In recent times, Larry and his wife Teresa Williams have been touring as part of the current electric version of Hot Tuna as well as on their own. With Tuna, Teresa has been delivering Jefferson Airplane/Grace Slick classics "White Rabbit" and "Somebody to Love" and absolutely killing on these. Here Larry and Teresa take center stage showcasing their own music – and the result is glorious!
Their long awaited duo album is an utter delight end to end. Among the eleven songs are six Larry wrote, one he wrote with Louie Ortega and one with Julie Miller plus three covers. As one would expect from any project Larry Campbell is part of the performances throughout sparkle. His guitar and mandolin work is always creative and most excellent in its service to the service of the songs. He could easily take more spotlight soloing but Larry really knows which notes NOT to play, a rare and precious attribute. The band includes Byron Isaacs on bass and Jason Guip on drums plus Bill Payne adding piano to 4 tracks and organ to one other. Amy Helm sings harmony on three. And just to show you how long this project has been in gestation their delicious cover of the Louvin Brothers classic (probably via Buddy & Julie Miller) "You're Running Wild" has the late and most seriously missed Levon Helm on drums.
The other two covers, placed to close the set, are "Keep Your Lamp Trimmed and Burning" (credited to Rev. Gary Davis) and the Grateful Dead's "Attics of My Mind" rendered most spiritually and hymn-like and gently as Larry's guitar supports the gorgeous three-part harmony singing of Larry, Teresa and Amy. Larry's songs are sturdy vehicles with strong melody and lyrics that feel ripped from real life. "Another One More Time" rips my heart apart each time I hear it.
Teresa Williams is a riveting singer when she gets to solo, and Larry sings with great warmth. As Emmylou Harris says, "The music Larry and Teresa make when they sing together is truly transcendent." I have found myself returning to this album quite frequently and with ever greater pleasure. Sure hope Larry and Teresa don't stop at just one album as a duo!
— Michael Tearson