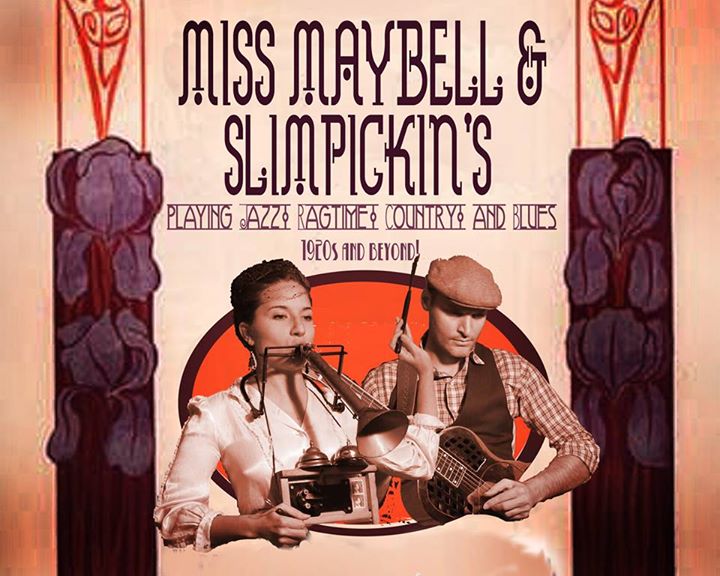 Hailing from New Hampshire, the duo of Miss Maybell and Slimpickin's take 1920s nostalgia past their period attire and into a genuine affection for the music of the era. While they focus primarily on eclectic pre-war blues styles, they're just as likely to break out some early jazz or a country tune. They have serious chops, but keep them in reserve on their version of Blind Willie Johnson's Lonesome Day Blues, emphasizing the smokiness of Maybell's vocals, with perfect support from Slim.
Q & A
What is your goal in recording and sharing music?
Our goal in making music is to inspire our listeners with that beautiful universal common ground that we all share. Music say, "Our feelings are your feelings", the blues say, "your troubles are our troubles too".
Come up with a descriptive, original genre name for your music.
Hokum Blue Rustic Ragtime Jazz Revival
Who do you view as a likely audience for your music?
Everyone (people who like have fun)
If trapped on a desert island with only 3 songs, which would they be?
Slimpickin's
"Trouble in Mind"
"Georgia Rag" by Blind Willie McTell
"Heebie Jeebies" by Louis Armstrong
Miss Maybell
"I Cover the Waterfront" by Billie Holiday
"Parlez-Moi D'Amour"" Lucienne Boyer
"Black beauty"" Duke Ellington
Is there an instrument you do not currently play that you'd like to learn?
Slimpickin Cornet, piano
Miss Maybell Accordian, guitar, the saw
Who is your musical hero(es), if any?
Slimpickin Blind Willie Mctell, Louis Armstrong, Hank Williams (senior)
Miss Maybell Bessie Smith, Memphis Minnie, Billie Holiday, Ella Fitzgerald, Louis Armstrong
You can hear more from Miss Maybell and Slimpickin on Facebook: Click Here