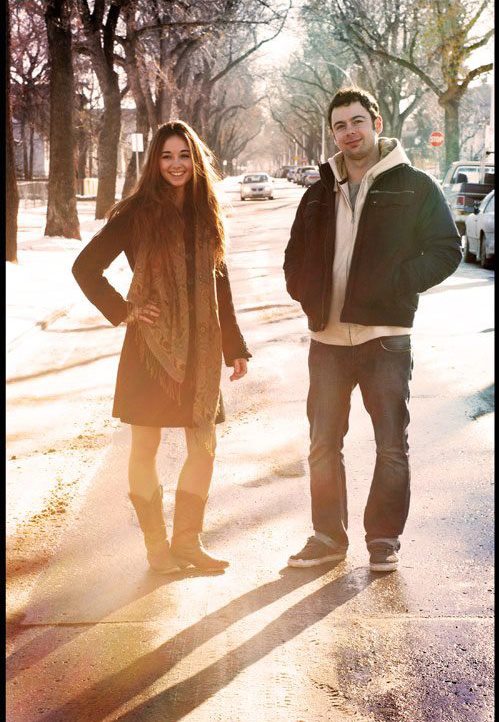 Picking up from last week's family act thread, folkfinds this week directs your attention to Edmonton, Canada brother-sister band Cadence & Nathan. Each writes and sings; their work has the intimacy you'd expect of a family band, balanced with a catchy folk-pop feel and enhanced by low-key acoustic full-band arrangements. Nathan's dobro playing adds a consistent, if slight, country feel, for a final product that is rootsy but with easygoing pop appeal. It's a wonder and a shame that AAA radio has yet to discover them.
Their eponymous first album was released on iTunes in early 2012, and you should go buy it. In the meantime, they've been using their Soundcloud page to post demos of a winning series of new tunes. "Canmore" is one of Nathan's, with a great slacker vocal from Nathan, and Cadence joining in on lovely, smokey close harmony. The arrangement is set off with a high chiming mandolin that brings to mind references from '80s jangle to '90s Americana without sounding imitative or retro. Enjoy, and then check out the rest of their songs.
Q & A
What is your goal in recording and sharing music?
I don't know if we have any particular goal in recording and sharing music other than hoping other people will enjoy it. I suppose if somebody found one of our songs and it became special to them at a stage in their life that would make me happy. There are a lot of songs that were there for me at different times my life and those songs still remind me of those particular times, even when I hear them now. If one of my songs could be one of those songs for somebody that would be great!
Come up with a descriptive, original genre name for your music.
Hmmm. Old Time Folk Pop. Because I write my songs on my dobro and due to the tuning I play in a lot of my songs tend to sound old timey. My sister Cadence seems to have a more modern sound with her writing so combined I'd call it Old Time Folk Pop. The song structures are simple and we're just hoping they're catchy enough to make you remember them.
Who do you view as a likely audience for your music?
I'd like to think our music is pretty accessible to people and that any age range could enjoy. That's our hope anyways haha. I guess people who still enjoy an acoustic sound with more minimal production would be our audience.
If trapped on a desert island with only 3 songs, which would they be?
1. 'Good Golly Miss Molly' by Little Richard
2. 'The Shape I'm In' by The Band
3. 'Angel Band' by Stanley Bros.
Is there an instrument you do not currently play that you'd like to learn?
I'd like to learn bass. I believe my sister said she'd like to learn bass, as well. I've always been attracted to rhythm, but playing dobro was in more of a melodic realm when I played with groups. I'm constantly working at becoming more of that rhythmic player I'd like to be. I think learning bass would be a great eye opener.
Who is your musical hero(es), if any?
I love the songwriting of Evan Dando. Good songwriting to me is like catching lightning in a bottle and Evan is very good at catching that lightning in my opinion. If I could write like Evan, and play like a combination of Mark Knopler and Josh Graves I would be satisfied. Until that elusive day I guess I'll just keep practicing though haha.
You can hear more from Cadence and Nathan on their website: Click Here