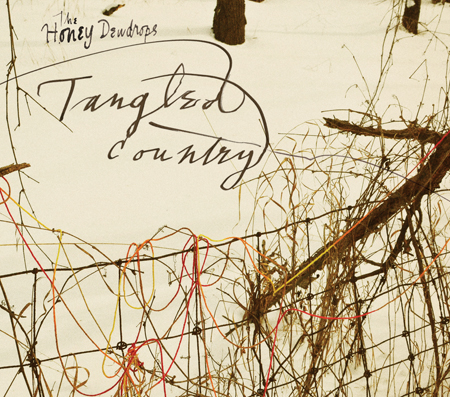 THE HONEY DEWDROPS
Tangled Country
The Honey Dewdrops
---
Settled in Baltimore MD, but hailing from Virginia, Laura Wortman and Kagey Parrish, were inspired by modern America and roots music. This is the first album of theirs that was entirely written, arranged and recorded in one place; a testament to the power of home.
The lure and lethargy of the domestic is explored in "Same Old." This track shows off their engaging harmonies and gentle tunes. In "Remington" they were inspired by a machine shop across the street from their house when they first moved to Baltimore. Wortman said, "Constant noise from power tools and what sounded like metal hammers banging out the shapes of giant steel swords and with the regular hum of the city and traffic moving up and down the street, this took some getting used to … but when the engines stopped … where everything come to a stop, slowed down, became quiet, like everything was paused." The duo capture the sentiment of this peace in the album's final instrumental track, harmonically capturing "playing tunes together on the porch."
"Lowlands" is a song with an attractive FM country feel. It has good harmonies and an allusion to the "Tangled Country" of the album's title. This track is enhanced by Parrish's mandolin playing. A rural metaphor of "Half broken horses" for mental anguish is the basis for "Horses" in which Wortman and Parrish's voices harmonize beautifully. Down-home harmonica introduces "Fair Share Blues," an affectionate tribute to a working man's journey through war, life and work. "Hold Love" has an endearing tune and sympathetic guitar accompaniment. Their country lineage is the theme for "Guitars." The chorus seems to contain their musical manifesto: "Sing we all true songs/ We sing them right, we sing them wrong/ Tuned up tightly and passed along /Like old guitars, we breathe songs."
The whole CD has a homey feel. A gentle and enjoyable listen.
— Rosa Redoz