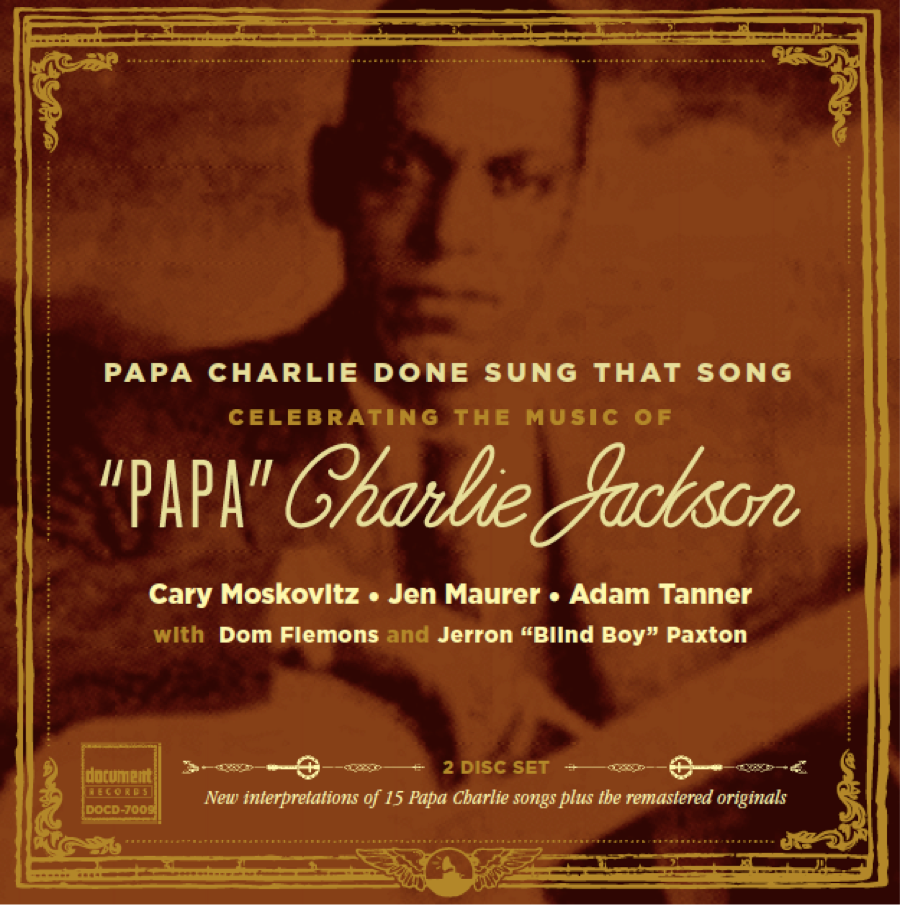 VARIOUS
Papa Charlie Done Sung That Song
Document 7010
---
This two-disc set is a one-of-a-kind project for the famed Document reissue label in that it contains material by living musicians (led by vocalist Cary Moskowitz, who also plays various banjos and guitars) paying a banjo-driven tribute to one "Papa" Charlie Jackson – not only a pivotal figure in American musical history but also the first self-accompanied blues singer to make records. Recording mainly original material he probably developed in his early days on the medicine and minstrel show circuits, Jackson waxed his first sides in 1924, and by the late 1920s was one of Paramount Records' biggest stars. His classic renditions of "Shake That Thing," "Alabama Bound" and "Spoonful" created the template for the countless covers of the three songs that followed over the years.
Jackson's unique facility with the 6-string banjo also had him in demand as an accompanist for major early female blues vocalists such as Ma Rainey and Lucille Bogan. Disc one features Moskowitz, Jen Maurer and Adam Turner joined by guests Dom Flemons (former Carolina Chocolate Drop) and youthful blues musician Jerron "Blind Boy" Paxton (playing everything from tuba and bass clarinet to accordion, kazoo and euphonium) proffering colorful, danceable-lively and startlingly focused,yet hokum-oriented versions of fifteen of the "crackle-and-hiss accompanied recordings that the quite prolific Jackson made ninety years ago," as label owner Gary Atkinson puts it in a brief, anecdotal essay. No mirror-image music here. Favorites beyond the trio already cited include "Papa's Lawdy Lawdy Blues" (Jackson's initial recording), the latest dance craze "Skoodle Um Skoo" (with just Paxton on vocal and piano), the optimistic train song "Up The Way Bound" and one of Jackson's most humorous titles "Mama Don't You Think I Know."
Disc two features Jackson's digitally re-mastered original recordings of the same songs in the same order – to quote Atkinson once more: "I always liked the fact that Jackson's music was difficult to pigeonhole – it wasn't completely blues as much as it wasn't completely jazz. Neither was it that of a typical songster nor was it just hokum or straight out vaudeville." Indeed, Jackson was simply a genre all to himself, and Moskowitz and crew marvelously cover all the bases. A 16-page booklet contains a longer essay on Jackson by Jas Obrecht and brief song notes by Moskowitz. Papa's smiling somewhere!
— Gary von Tersch