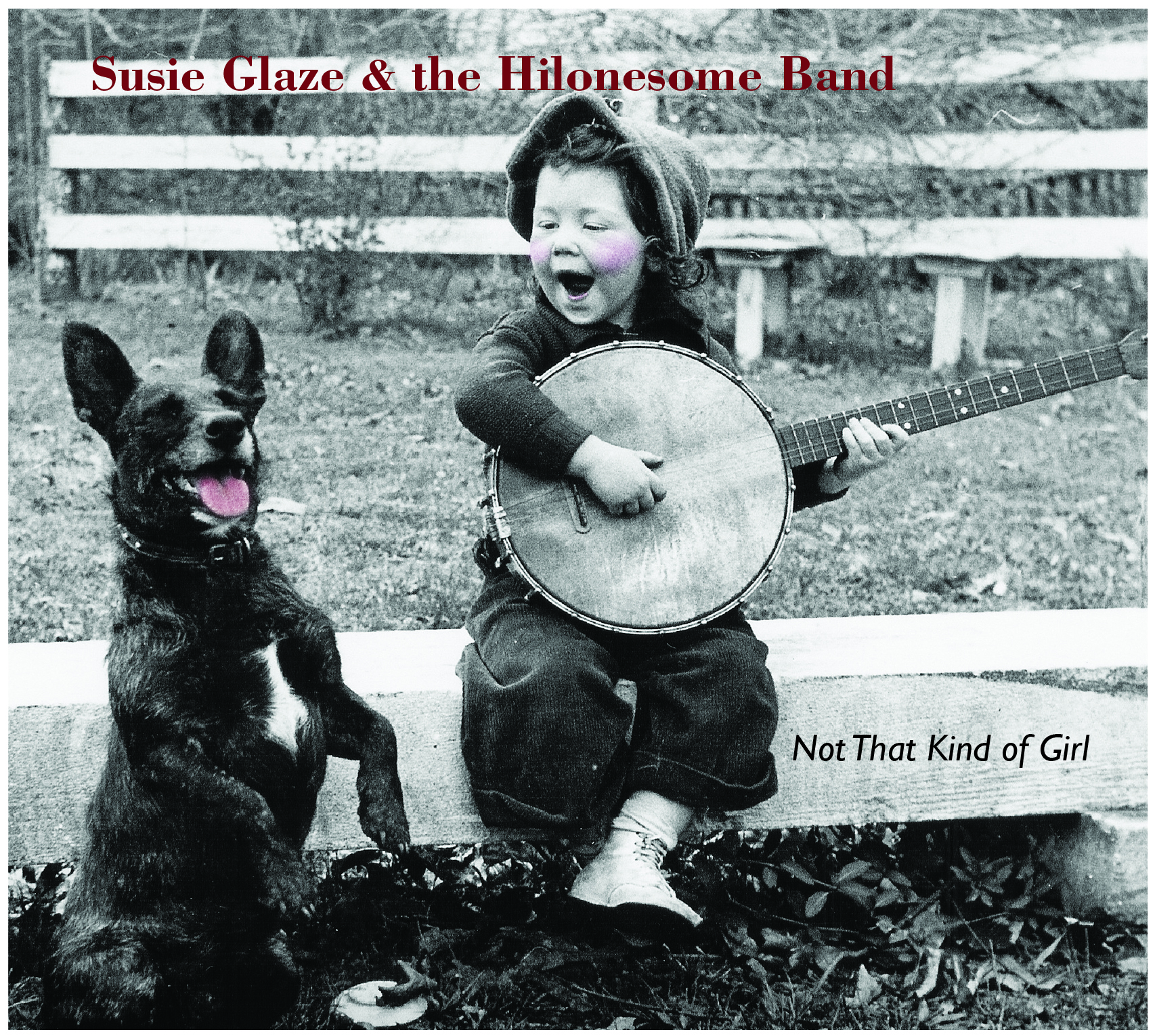 SUSIE GLAZE
and THE HILONESOME BAND
Not That Kind of Girl
Hilonesome
---
I must admit I asked my editor for this disc because I liked the cover, a black and white old-time photo of a little girl with a banjo bigger than her, her mouth open in song, sitting next to a happy dog. I wasn't disappointed. This expressive album is chock-full of pleasing bluegrass, swing, old-time and Celtic, played by a sharp band featuring Susie's classic bluegrass voice. The band wrote some of the songs, with guitarist Robert Ralph Carlson at the helm, and played with enough energy and talent to power an entire town. It's all produced by Herb Pedersen, a man with accolades longer than your arm; he's worked with everyone from Emmylou Harris to his own Desert Rose Band.
 
A Celtic leaning instrumental, "Independence," starts off the release. Rich with many textures, it features a soaring fiddle and excellent contributions of guitar, mandolin, bouzouki and bass. The title cut offers some tasty flatpicking from Rob Carlson, and Herb Pedersen on backing vocals. "Heartland" and "The Last to Leave" are melancholy pieces while "Never Give Up" presents a more positive view. It's got a great toe-tapping groove, but contains an odd reggae beat in the middle.
I love the twin fiddles in the swing tune "Don't Resist Me," a plea to a would-be sweetheart, and the more modal sound of the fiddle in the heartbreaking traditional song "Dens of Yarrow." Susie's emotional vocal on that one reminds me of a young Jean Ritchie. "The Mountain" is a standout with lyrics about the destruction of the environment from mining, "God made the mountain/Only God could tear it down." The lively banjo is a contrast to the biting lyrics. And speaking of biting, the acerbic David Olney offering, "Millionaire," is a good choice for this band. Steve Rankin sings the lead and also plays mandolin and bouzouki.
While Susie does most of the lead vocals on this disc, the guys occasionally take the front. It's a little puzzling since her name is featured. The men have good voices, but if you're going to feature a vocalist, use her out front on all the songs. (Harmonies are a different kettle of fish.) The band aptly covers John David Souther's "Prisoner of Disguise" in a more rootsy way than he did, and features some fine mandolin work from Chris Hillman.
If you're an Americana fan, and a sucker for those high pretty bluegrass sopranos, you'll want to pick up this great collection.
— Jamie Anderson