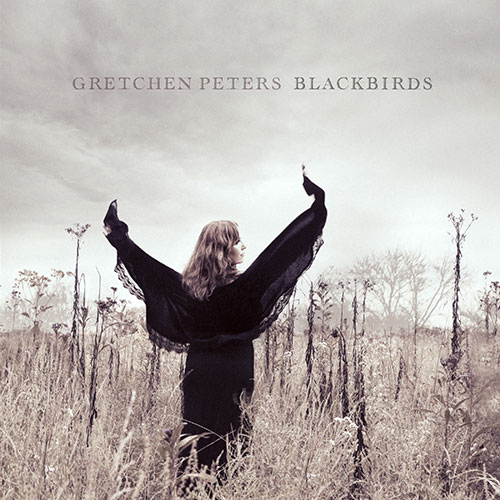 Gretchen Peters
Blackbirds
Scarlet Letter 10
---
Gretchen Peters first moved to Nashville in the 1980s. She has written a long string of some of the best songs from there, often dealing with thorny human issues. "Independence Day" about spousal abuse and a monster hit for Martina McBride was a CMA Song of the Year. In October 2014, Gretchen was named to the Nashville Songwriters' Hall of Fame. She follows that honor with Blackbirds, a recording that has haunted me from my first listen. It has taken me longer than usual wrestling with trying to write this piece mainly because of how mightily it hit me. Production and performances throughout are gorgeous. Gretchen co-produced here with husband and keyboardist Barry Walsh and guitarist Doug Lancio. Together they have helmed several albums.
One after another the songs make potent statements and spin powerful tales. Versions of "Blackbirds" bookend the album. First is a full band production and at the end a more acoustic and more darkly lit take. A dark, disturbing tale of a farmer's child driven to murder. "Pretty Things" reminds me melodically of Joni Mitchell's "For the Roses," and lyrically it addresses the same question of why artists put themselves through all that crap to be able to do the art. "When All You Got Is a Hammer" limns the crippling, ever growing anger and frustration of a man losing the struggle to support his family. "Everything Falls Away" is an ode on impermanence. Throughout Gretchen's songs wrestle with some difficult demons. Each time after listening I feel drained and renewed. Her art is that strong.
When Peters' previous album Goodbye Cruel World was released in 2012, I thought it was her best yet. Blackbirds is even better. Don't be surprised when I write about it in December as one of the year's best.
— Michael Tearson