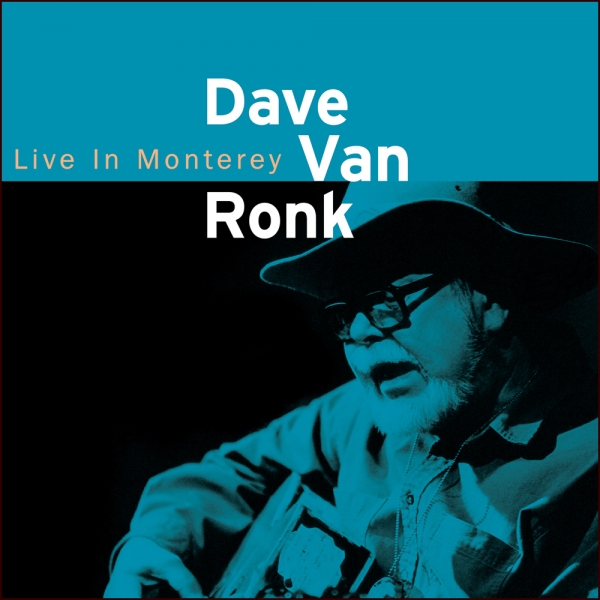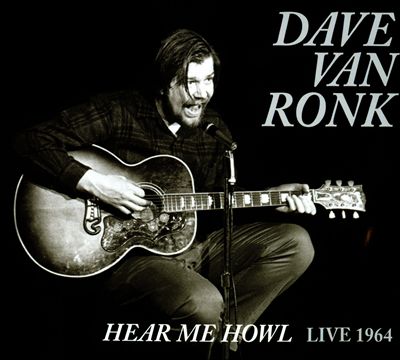 DAVE VAN RONK
Live In Monterey
Omnivore 83
DAVE VAN RONK
Hear Me Howl
Rock Beat 3284
---
The charismatic "Mayor of MacDougal Street," otherwise known as the avuncular, musical genre-spanning genius Dave Van Ronk, had already released half a dozen albums by the time he was recorded in concert at Bloomington's Indiana University in the fall of 1964 at the age of 28. Mentored by Reverend Gary Davis, and later becoming Bob Dylan's initial Greenwich Village guru, Van Ronk cheerily presided over the emerging-then-burgeoning coffeehouse folk/blues culture that began developing in the late 1950s, befriending and promoting folks like Woody Guthrie, Joni Mitchell, Pat Sky, Phil Ochs and Tom Paxton among many others.
This very accurately titled two-CD, 25-track Rock Beat project captures the gruff-voiced, howling singer/songwriter and intrepidly irreverent acoustic guitarist in his prime – whether offering his creative interpretations of a variety of black blues, folk and jazz songs (favorites include "Buddy Bolden's Blues" (Jelly Roll Morton), "Two Trains Running" (Muddy Waters) and "One Meatball" (Josh White) as well as riveting renditions of three Davis-associated titles: "Candy Man," "Cocaine" and "Motherless Children." Throughout, I'm glad the producers (Mary Katherine Aldin and James Austin) left in plenty of Van Ronk's irreverently humorous and inveterately witty between-song commentary, opinions and don't-wanna-miss autobiographical tales. The set's final track, a rousing version of the traditional "He Was A Friend Of Mine," was recorded live at the fabled 1977 Phil Ochs Memorial Concert. A fitting coda to an inspired and inspiring release.
Fast forward nearly 35 years to Monterey, California's spacious Carlton Hall, on the grounds of a turn-of-the-century, high-ceilinged church in the Old Town section of Monterey, and we have an Omnivore album that works both as a career retrospective and as an introduction to Van Ronk's legendarily varied repertoire. From the ragtime opener "You've Been A Good Old Wagon But You Done Broke Down," to a closing, melancholy recall of Ian Tyson's "Four Strong Winds," – with gems on the order of the self-deprecating "Losers" (a Mose Allison-like Van Ronk original), the memory laden "Did You Hear John Hurt?" (for another of his vintage blues buddies), the Jelly Roll Morton classic ("Winin' Boy Blues") and the gospel chestnut "Jesus Met The Woman At The Well" along the way, the larger-than-life folksinger's vocal chops are a little tamer (but not much), the energy level as high as ever and, with the great acoustics one can really appreciate his piano-like, inventively nuanced guitar work.
As another of his longtime buddies, Ramblin' Jack Elliott, relates concerning his pal's take-no prisoners attitude toward the end of Rick Chelew's scene-setting liners (Chelew also recorded the concert): "He always sounded like he was making music with a file or a rasp, and sang songs that bristled with meaning. Whether he was quiet or loud, you knew darn well he meant what he was singing about, and he meant it with all his heart." Happy Traum's insightful and affectionate liners also add to the fun.
— Gary von Tersch