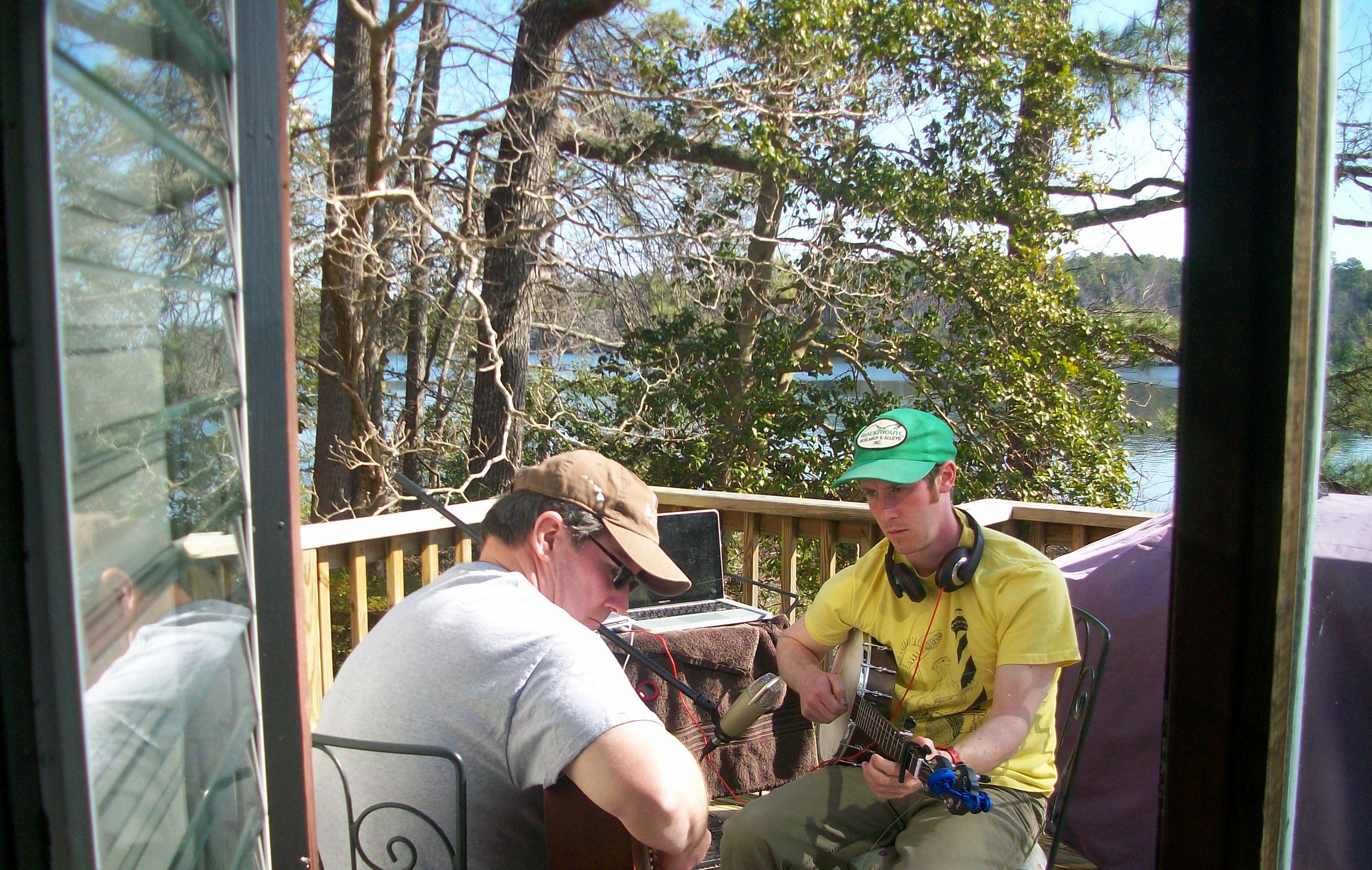 Our old-timey trip around the world brings us back to the US. With Father's Day coming up, a reminder that folk music frequently starts in the family comes to us from banjo player Jack Laskey and his dad Mark. Jack can be heard in & around Bloomington IN playing for squares and contras with his band The New Hoosier Broadcasters, but from time to time regales his Soundcloud followers with fantastic solo pieces featuring clawhammer banjo & slide or fingerpicked guitar, frequently in slightly unusual contemporary settings. The more straightforward father-son duets he's posted, on the other hand, are among the most sublime old-time pieces we've come across; the two develop a rock solid rhythm and Mark's voice quavers perfectly above the instruments. "Old Man Can Your Dog Catch a Rabbit?" could never end and we'd never, ever get tired of it.
Q & A
What is your goal in recording and sharing music?
In the case of this recording, I simply wanted to have a document of my Dad and I sitting down and having a tune in the living room. It's so easy now to just set up a microphone and be able to capture a moment, so when we get the chance it's nice to be able to have a record of those sessions because I think they are really special times for the both of us.
Come up with a descriptive, original genre name for your music.
For this tune: "Bring your son to work-rock" or "Family-folk".
Who do you view as a likely audience for your music?
My Dad and I are both active in the Old Time scene in our areas (he lives in Cleveland, OH and I'm down in Bloomington, IN) and one of the amazing things about that style of music is that it serves as community music so it has built in audiences at parties, dances and festivals.
My primary musical focus now is playing banjo with The New Hoosier Broadcasters, and we play mostly for square and contra dances.
If trapped on a desert island with only 3 songs, which would they be?
1. "Train On The Island"
2. "Boatman"
3. "This Must Be The Place (Naive Melody)" by The Talking Heads
Is there an instrument you do not currently play that you'd like to learn?
If I had the time and patience I would like to be able to pick up the fiddle.
Who is your musical hero(es), if any?
My Dad. The way that he approaches music and remains curious about new styles and techniques is really inspiring. He can speak intelligently on just about any aspect of traditional or folk music, but he doesn't over think his playing. He's very tasteful and knows when to add something or leave something out.
I'm also really appreciative and look up to any of the older folks that have been playing for years that go out of their way to make young musicians feel welcomed into the Old Time community.
You can find Jack Laskey on his Soundcloud site: Click Here