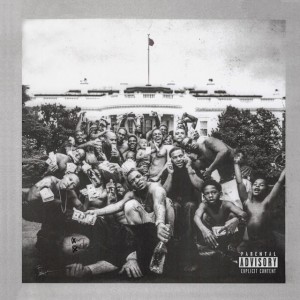 KENDRICK LAMAR
To Pimp A Butterfly
Top Dawg / Aftermath / Interscope
---
American popular recording artists' coming-of-age have often produced works of simultaneous high creativity and crystallized style. Think Coltrane's Love Supreme, Dylan's Highway 61, Beatles' Revolver, Michael's Thriller or Lauryn Hill's Miseducation of Lauryn Hill. These works were not created in a vacuum, but rather, reflective of creative directions the artists had been trending and a reaction to the cultural forces of the moment. Somehow, at the crossroad these releases became timeless, seemingly on first listen and continue to this day.
Let Kendrick Lamar's third full-length release To Pimp a Butterfly enter that rarefied air. Hailing from Compton, the south central Californian city whose musical legacy is largely known for rappers and producers Dr. Dre, Ice Cube and Eazy-E of the group NWA. While there were many others, these Compton rappers were primarily responsible for popularization of "gangsta rap" — a hyper masculine, violent off shoot of hip hop that at its best laid bare accounts of police brutality (NWA's "Fuck tha Police") and systemic economic racism (Cube's "Bird in Hand"). Such exceptional moments were not exactly the rule though as the sub-genre became formulaic in the 1990s, mirroring the casual misogyny, violence and nihilism found in a variety of American mediums from Quentin Tarantino's films to emergence of first person shooter video games.
Born into this tumult in 1987, Kendrick Lamar's music has a depth and duality not often witnessed in hip hop or pop music, or at least not lately. His first two releases reflected the expressions of a hardened black youth, torn asunder by family and community dysfunction — but unlike his predecessors, Lamar had always had his eye on redemption. Through twisting first person anecdotes, Lamar's lyrics had the ability to reveal the moral conflict of a gang banger; the vulnerability of a prostitute; the trials of a good kid in a mad city.
With To Pimp a Butterfly Lamar takes these laments a step further. While commemorating his troubled Compton community – really our troubled country at large – Lamar requires of himself and his listeners to transcend America's most disturbing propensities for greed, self-absorption and injustice. On "Blacker the Berry," Lamar exhibits a unique ability to expose his shortcomings as being both cause and effect of societal alienation ("This plot is bigger than me, it's generational hatred"). For "How Much a Dollar Cost," Lamar recounts encounters a homeless man; initially reluctant to offer spare change, Lamar composes a meditation of compassion with theological import. ("Guilt trippin' and feelin' resentment / I never met a transient that demanded attention / They got me frustrated, indecisive and power trippin'/ Sour emotions got me lookin' at the universe different").
"King Kunta" indirectly celebrates an artist who strives to hone his craft in an industry where accountability and mindfulness of the collective good are hallmarks of a bygone era. ("And if I gotta brown nose for some gold / Then I'd rather be a bum than a motherfuckin' baller") In the two part "u" Lamar dizzyingly jumps from first to second person in an attempt to account for both his personal demons and the anguish of Compton residents who lose loved ones far too soon.
If this sounds like an ambitious tackling of both complex macro and micro social issues, it is. Woven together by a reoccurring poem, bound by skits and interludes, crowned with striking album cover imagery, To Pimp a Butterfly is an intricate polemic that bears repeated listens in order to digest and dissect. Lamar and his team of producers, musicians and guests have crafted an inspired sonic organic whole — no note, verse, chorus or musical backdrop is wasted or without purpose. Butterfly is almost academic in how deliberate the discourse, but Lamar's music thankfully channels the emancipating powers of the boogie rather than "bougie."
It is ultimately the music of Butterfly that separates this effort from virtually every rap album of the last 15 years. Combining live music with samples, contemporary talents (James Fauntleroy, Anna Wise) with legendary (George Clinton, Ronald Isley), the guest list is that of co-conspirators not hired guns. Further, using hip hop rhythms as a base, Butterfly's producers have seamlessly mixed '70s P-Funk together with Gil Scott Heron's jazz poetry and added a dash of the ethereal sounds of Sufjan Stevens for good measure. The album is a multi-layered aural odyssey with jarring textures of saxophone riffs, turntable scratches and voices from beyond the grave. Giving its complexities, it certainly is an album that one may not like but it is impossible not to admire.
— Andrew McIntosh