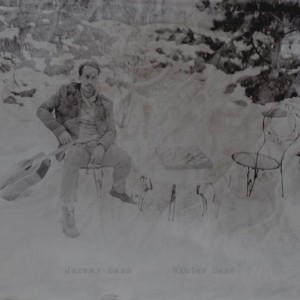 JEREMY BASS
Winter Bare
Self
---
Jeremy Bass, a Brooklyn based songwriter, poet and classically trained guitarist wrote this album during the fierce New York winter of 2013. He was nursing a broken heart.
"I was drinking, I had run out of money, I was nearly unemployed and certainly unemployable," he confessed. "But I had my fireplace and my guitars." Bass was listening to Merle Haggard, Johnny Cash and Tom Waits as he composed the album. He also taught himself to play mandolin and banjo. It may have been forged in ice and despair but the music is redolent of spring.
"Red Tailed Hawk" with its gentle percussion and warm trumpet playing is one such sunny track. The piano playing and descending chord sequence are reminiscent of Nick Drake at his melancholy best. The soaring imagery of this piece takes us from the Waits' influenced despair of the opening track "Introduction, Shoreline."
"Coastline" is another standout track which shows off Bass's harmonic intelligence. And the brilliant single "Lift Me Up" has a gentle epic quality to it, enhanced by great harmonies, tasty piano fills and uplifting trumpet playing. The title track has Bass harmonizing beautifully with Anne McCain, backed by the understated marvel that is his band. "One More Cigarette" sounds like a forgotten track from The Band's Music from Big Pink. A life affirming keyboard descent leads to a chorus that already sounds like a classic. "Coming Back Home" opens with an a cappella verse before the fantastic band joins in.
The whole album sounds like Bass has come home. "By the end of the winter, I'd fallen in love again," he explained, "and had a set of songs that wove their way through loneliness, despair and near insanity, to love and longing and ultimately hope." Bass has a Tim Buckley-like purity to his voice, and there's a warmth and grace to the production here that does justice to the quality of the music. Winter Bare is a stunner!
— Rosa Redoz