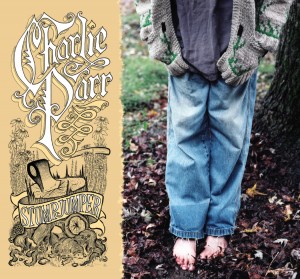 CHARLIE PARR
Stumpjumper
Red House 283
---
Long a part of the spirited Duluth, Minnesota, music scene (Trampled By Turtles, Low), prolific folk blues singer, gripping songwriter and 12-string National resonator steel guitar, Dobro and fretless, open-back banjo master Charlie Parr went out-of-state for the first time to record his Red House debut – traveling to an electrified old outbuilding on rural Hillsborough, North Carolina's storied Down Yonder Farm with his harmony singing wife Emily and fellow multi-instrumentalist Phil Cook (Megafaun, Hiss Golden Messengers), who also produced this gripping eleven-song project in three days last October with expert "field recording" sound and atmospheric mixing from Nick Peterson.
It's also Parr's first album to feature him fronting a full band – in addition to Emily and Phil, Ryan Gustafson adds electric bass, fiddle and banjo to affairs with fellow local James Wallace on the drum stool and occasional piano. Parr's well-crafted songs are inspired by his family ("Remember Me If I Forget" is for his Aunt Mid "who stomped the terra" while the waltzy "Temperance River Blues" is dedicated to his family in Duluth), the Bible (an angry hymn titled "Empty Out Your Pockets" and "Lazarus"), vicariously overheard conversations (the Tom Waits-scary "Evil Companion"), places in his life (both "On Marrying A Woman With An Uncontrollable Temper" and the generational ode "Falcon") and on childhood memories – the lively title song recalls "a 1966 International Harvester pickup truck with no hood and four snow tires, breaking field road land speed records on my way to my job in a filling station."
Also noted is the sets' sole cover, the old blues/murder ballad "Delia," with Parr's rendition recalling both Blind Willie McTell and David Bromberg. Parr has also been listening to a lot of Charlie Patton, Bukka White, Leadbelly, Dock Boggs and Koerner, Ray and Glover records. After a health scare a few years ago, the scruffy looking Parr lives simply – a vegan diet and no alcohol – often cooking up rice and beans on his engine manifold on desolate cross-country drives as well as sleeping in his car. He's well worth checking out if he heads your way.
— Gary von Tersch