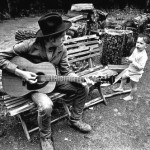 In 1966 Bob Dylan was struggling with the recording of his next album. He was having little success recording in New York City. His producer Bob Johnston suggested they move the sessions to the CBS studios in Nashville. Bob took his advice and he, Al Kooper and Robbie Robertson moved the project south. The result was Blonde on Blonde which was completed within a month. Soon many other artists were moving their sessions to Nashville and utilizing the top shelf session musicians available in the studios. Dylan would go on to record John Wesley Harding and Nashville Skyline in this fertile atmosphere.
The Country Music Hall of Fame and Museum has a new exhibit celebrating this time from 1967-72. The exhibit "Dylan, Cash and the Nashville Cats: A New Music City" is the inspiration for this week's program. We'll hear some of the wonderful music coming out of The Music City when the folkies arrived.
LISTEN:
To subscribe via iTunes, click . | To listen using Stitcher, click .
Artist / "Title" / CD / Label
Pete Seeger / "If I Had A Hammer" / Songs Of Hope And Struggle /
Smithsonian-Folkways
Area Code 615 / "Lady Madonna" / Area Code 615 / Polydor
Bob Dylan / "Leopard-Skin Pill-Box Hat" / Blonde on Blonde / Columbia
Bob Dylan / "As I Went Out One Morning" / John Wesley Harding / Columbia
Bob Dylan / "To Be Alone With You" / Nashville Skyline / Columbia
The Byrds / "One Hundred Years From Now" / Sweetheart of the Rodeo /
Columbia
Tracy Nelson / "I Fall to Pieces" / Tracy Nelson Country / Reprise
Eric Andersen / "All I Remember is You" / A Country Dream / Vanguard
Jerry Jeff Walker / "Let It Ride" / Driftin' Way of Life / Vanguard
Buffy Sainte-Marie / "The Piney Wood Hills" / I'm Gonna Be A
Country Girl Again / Vanguard
Area Code 615 / "Classical Gas" / Area Code 615 / Polydor
Johnny Cash & Joni Mitchell / "Girl of the North Country" / The
Best of the Johnny Cash Show / Columbia
The Nitty Gritty Dirt Band & Doc Watson / "Tennessee Stud" / Will
the Circle Be Unbroken / Capitol-Liberty
Joan Baez / "Love Minus Zero-No Limit" / Any Day Now / Vanguard
Leonard Cohen / "Lady Midnight" / Songs from a Room / Columbia
John Hartford / "Back in the Goodle Days" / Aereo Plain / Rounder-
Warner Brothers
The Lonin' Spoonful / "Nashville Cats" / Greatest Hits / Buddah
Pete Seeger / "If I Had A Hammer" / Songs of Hope and Struggle /
Smithsonian-Folkways