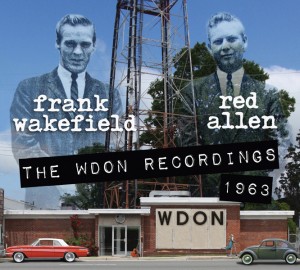 FRANK WAKEFIELD and RED ALLEN
The WDON Recordings, 1963
Patuxent 258
---
Talk about a time capsule! There are twenty-two performances here from WDON broadcasts in 1963. WDON was an AM station in Wheaton MD. The chemistry between Red Allen and Frank Wakefield was remarkable, and it is in fullest flower here. Their band with Pete Kuykendall on banjo and Tom Morgan on bass augmenting Red's guitar and Frank's mandolin is one of the all-time classic bands. And Red Allen, universally regarded as one of the greatest bluegrass vocalists, is at his finest here.
From the sound of it the broadcasts these performances came from were totally fun affairs. They are at once relaxed and highly charged, the latter because everyone was so at ease with each other they could let it fly.
The twenty-two selections cover a lot of ground. There are country classics like "Pistol Packin' Mama," Bob Wills' "I Wonder If You Feel the Way I Do," Hank Williams' "Sing, Sing, Sing," Ernest Tubb's "I Wonder Why You Said Goodbye," Bill Monroe's "I'm Blue and Lonesome Too" and Flatt & Scruggs' "Give Me The Flowers While I'm Living." The most prolific writer here is that old reliable Public Domain with "Old Joe Clark," "Deep Elum Blues" and "Wayfaring Stranger" among others. It is really just a big bunch of songs they loved and loved doing.
The recordings have been beautifully preserved by Pete Kuykendall, and thanks, Pete, for your valiant efforts!
It really boils down pretty simply: if you like classic bluegrass played straight and true you will absolutely love this.
— Michael Tearson