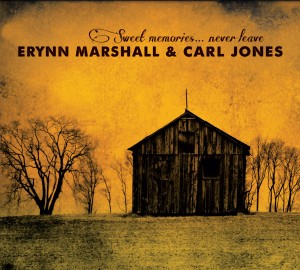 ERYNN MARSHALL and CARL JONES
Sweet Memories … Never Leave
Dittyville 006
---
Georgia-born singer, songwriter and multi-instrumentalist Carl Jones has been a well-known figure in old time music circles for decades through his solo work as well as partnerships with fiddler James Bryan and others, and he was, for a time, a member of Norman and Nancy Blake's Rising Fawn String Ensemble. His wife, Erynn Marshall is a native of British Columbia who became entranced with the fiddle music of the Appalachians, in particular the distinctive and haunting tunes of West Virginia and Kentucky, and ended up moving to the region to immerse herself more fully in the culture. Though both have previous releases, this is their first together, a collection of an even dozen songs and tunes that nicely sample the variety and breadth of old time music.
A couple of good examples here are "Camp Chase" and "Piney Woods", a pair of the kind of "crooked" tunes that fiddlers of Marshall's caliber are drawn to and find a challenge to be mastered. The former is a Civil War-era tune reputed to have won its author, a Confederate prisoner his freedom, and Marshall's version echoes that of a mentor, West Virginia fiddler Wilson Douglas. The latter is drawn from the famous Hammons family, also of West Virginia, and Marshall plays both aggressively and powerfully, with a distinctive edge. Among three original fiddle tunes by her on the disc is the closing "The Lohman Waltz," highlighting the fact that like most old time fiddlers, she loves to finish the evening with a good waltz.
Jones' voice has a rough-hewn and mournful cast to it, especially effective on classic old tunes like "Poor Little Ellen" (known in some quarters as "Poor Ellen Smith") and "Maple On The Hill", and he's particularly good on the Dixon Brothers' "Rambling Gambler". The album's title is drawn from the lyrics of a Jones original, "One Fond Adieu", a sober and reflective piece that, according to the liner notes, he wrote in anticipation of his 60th birthday. Had Jones been around to write it eighty years or so ago, it's the kind of song the Carter Family would have snapped up for an "A" side. And, though Jones does most of the singing on the disc, their duet on "Convict And The Rose" is also a highlight.
In producing themselves, Marshall and Jones are clearly aware that this is music that requires no studio gimmickry, they just let it happen organically. While it often seems that old time music is all about fiddle tunes, and the more obscure the better, they prefer to present it simply – and simply is the key word here – as the music that people have been making by and for themselves in their own homes for centuries.
— John Lupton