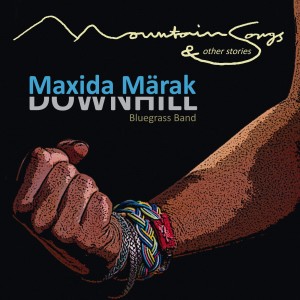 MAXIDA MARAK and
DOWNHILL BLUEGRASS BAND
Mountain Songs and Other Stories
Limestone House Music 026
---
Swedish bluegrass? YES! And who'd've thunk it! Maxida Marak, a member of the indigenous Sami people of Sweden, has joined with Downhill Bluegrass Band to create an album inspired by mining interests ripping up pieces of the Sapmi (Lapland) area. And what a sweet and memorable album it is!
The thirteen songs include two originals each by Maxida and Downhill's Jonas Kjellgren. Swedish writers Jan-Olov Johnsson and Jacob Knapp are tapped for one song each. They also offer Gordon Lightfoot's "Home form the Forest," The Waterboys' "Fisherman Blues" and right on point Darrell Scott's "You'll Never leave Harlan Alive" with a new verse Maxida wrote. Also dead on point and offered both in Swedish and English is Steve Earle's "The Mountain." The traditional "Darling Corey" also appears in both English and Swedish versions.
The love of the music and the passion the band and Maxida bring to the project is the album's core. All clearly poured their hearts into it. Downhill clearly understands bluegrass and they play splendidly.
This album came to me out of deep in left field, and I am delighted it found me.
— Michael Tearson