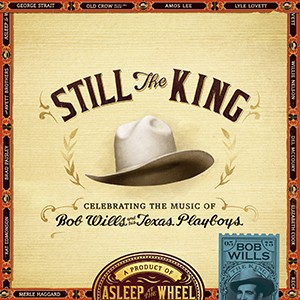 Asleep At The Wheel
Still the King
Bismeaux
---
Asleep at the Wheel moved from Paw Paw, West Virginia to Berkeley, CA, in the early 1970s at the suggestion of Commander Cody. Like Cody, The Wheel combined rock with swing and country music, leaning more heavily on the swing and country side than Cody's Lost Planet Airmen. Bandleader Ray Benson and his cohorts were swimming against the stream in the Bay Area when they arrived, but the infectious quality of their playing soon won them a loyal following. They played all kinds of country music, but it was their take on Texas swing and the music of Bob Wills that made the deepest impression. They're probably responsible for the Wills revival of the late '70s, and the music of the Texas Playboys has always been a component of their sound.
This is their third collection saluting the music of Bob Wills and it may be their best. It's certainly the most star-studded, with guest appearances by several generations of Bob Wills fans including Willie Nelson, The Avett Brothers, Lyle Lovett, The Devil Makes Three and some of the dozens of musicians that have played with AATW over the years. There are 22 tunes here, all of them delivered with the understated virtuosity that was the trademark of the Texas Playboys, and, now, AATW.
The album opens with the "Texas Playboys Theme," played by past and current AATW musicians and produced by Benson with a scratchy sound of a 78 RPM record from the 30s. The Avett Brothers take lead vocals on "The Girl I Left Behind Me," a traditional fiddle tune that's based on the Irish folk song "Mountain Dew." The Avett's Bob Crawford and Tania Elizabeth play some fiery Wills' style fiddle and trade off with The Wheel's lap steel player Eddie Rivers. Lyle Lovett croons "Trouble in Mind" with plenty of slurred blues notes and Merle Haggard follows suit with his take of "Keeper of My Heart," a duet with The Wheel's Singing piano player Emily Gimble, granddaughter of Johnny Gimble, one of The Playboys' best-known fiddlers.
Old Crow Medicine Show adds plenty of spunk to their blazing rendition of "Tiger Rag," played at a blistering punk rock tempo. "Silver Dew on the Bluegrass Tonight" features The Del McCoury Band; they swing but moved the tune closer to the bluegrass side of the equation. Brad Paisley sings lead with Ray Benson on "My Window Faces South," then contributes a shredding electric guitar solo supported by stellar solos from Floyd Domino's piano and Eddie Rivers on lap steel. Pete Bernhard from The Devil Makes Three takes lead vocals on "Bubbles in My Beer" while Shooter Jennings joins in on the title rack, a song his dad (Waylon Jennings) wrote for a Wills album he did in the 70s. The tune is played with a stomping Waylon Jennings backbeat and features harmony vocals by Randy Rogers and Reckless Kelly.
— j poet