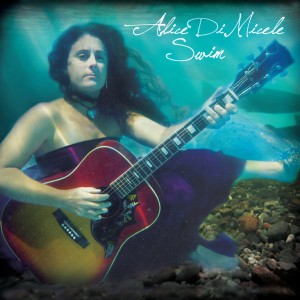 ALICE DiMICELE
Swim
Self-released
---
I'm a long-time fan of this engaging singer-songwriter with an emotive multi-octave voice, so I expected to like this album. From the moment that B3 organ swooped in on the first cut, I loved it. Exquisitely produced and arranged, this collection of original tunes (and one cover) embraces a varied landscape, from folk to funk. DiMicele calls her style "groove folk" and it's an apt description. And those vocals! Her expressive voice can dip into a register so low you'll swear your speakers are vibrating. When she sings higher notes, it's just as full and doesn't get thin like it does with mere mortals. She's like early Joni Mitchell pumped up to eleven; she also knows how to bring it down to a near whisper.
She may play the acoustic guitar, but "Soul Fly Free" is definitely R&B and its uplifting message is one you'll want to hear on your down days. Heck, anytime. "If I Could Move the World" is thoughtful and sung with a lot of soul. Centered on a percussive guitar riff, she picks it up on "Open Road." It features lively fiddle from Darol Anger and tasty lead guitar from Jeff Pevar. DiMicele tells the story of an organic farmer from Pennsylvania in "Old Life Back." He has to move because fracking polluted his water and land. It has some of the best lines of the album: "Frack you and your natural gas / Ain't nothin' natural about that." Amen, sister. "Inside" is about how the spirit lives on even if the body is gone; there's a beautiful trumpet (or flugelhorn) on it. There are more great horns on "When Jane Rides Scout," a story about a woman who loves her horse. Its fast pace feels like a racing steed. "Schoolhouse" is another love song, this time to the Klamath River.
The title cut has a stellar funk-infused rhythm section and some great advice – instead of waiting for your ship to come in, learn to swim. That deserves another amen, sister. She brings it back down with "This Love." It's beautiful, done simply with her voice, delicately finger picked guitar and cello. She ends with a Dead cover, "Ripple," a country-rock number with a great choir. I'll play this album over and over until my wife threatens divorce. Then I'm putting in the earbuds and listening some more. Put Swim on your must buy list.
— Jamie Anderson